Econ Group Attends Conference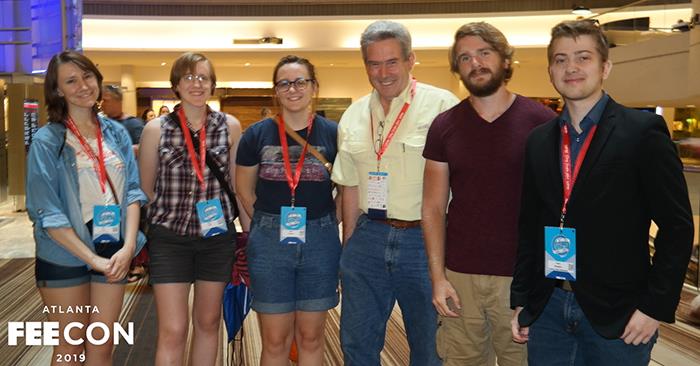 Truman sent representatives to the Foundation for Economic Education Conference in Atlanta, Ga., in June. Pictured, from left: Olivia Howard, Emily Garth, Mary Hansen, David Gillette, professor of economics, Bryce Beggs and Isaac Hampton.

Five students and a faculty member attended the Foundation for Economic Education Conference in Atlanta, Ga., June 13-15.
David Gillette, professor of economics, discussed his upcoming publication on "The Economics of Envy," co-written with Datha Damron-Martinez, associate professor of business administration, and students Lillian Brink and Sarah Finley. The paper explores the role of envy in the perceptions and decision making of college-age students. It is survey based and would have relevance in marketing, consumer and labor economics, and public policy environments.
The team is currently in the process of making final edits and hopes to have it submitted by the end of July for publication. The project began through an Interdisciplinary Community Grant from summer 2018. A future survey is planned for some time in the coming academic year.
This is the second year in a row Truman has been represented at FEECON. Attendees from the last two years include Brink, Finley, Danny D.Nagy, Maguire Radosevic and Nick Thiele in 2018, along with Bryce Beggs, Emily Garth, Isaac Hampton, Mary Hansen and Olivia Howard in 2019.
Among the activities at FEECON are 50 breakout sessions with a variety of speakers and six different tracks to explore. Retiring FEE president Lawrence Reed, along with "Words & Numbers" podcast hosts Antony Davies and James R. Harrigan, were among this year's featured speakers. Also featured for their entrepreneurial accomplishments were "Journey" composer Austin Wintory and National Geographic photographer DeWitt Jones.