Alumnus Examines Cultural Aspects of Recycling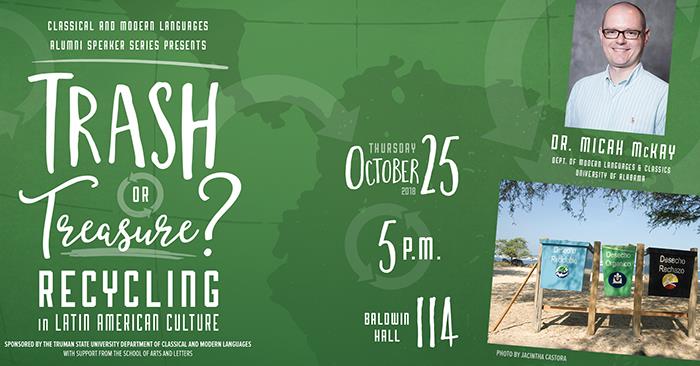 Micah McKay will present "Trash or Treasure? Recycling in Latin American Culture" at 5 p.m. Oct. 25 in Baldwin Hall 114.
After graduating from Truman, McKay earned a Master of Arts degree in translation studies at the University of Wisconsin-Milwaukee while working as a Spanish/English medical interpreter. He then served in the Peace Corp in Peru before returning to graduate school and earning an Master of Arts degree in Spanish and a Ph.D. in Spanish literature from the University of Wisconsin-Madison in 2017.
McKay is currently assistant professor of Spanish in the Department of Modern Languages & Classics at the University of Alabama. He has already published three scholarly articles on the topics of trash production and littering in Spanish and Portuguese-speaking countries, as reflected in contemporary Luso-American narratives, and has made numerous conference presentations on the treatment of environmental issues in literary works. Recently his co-edited volume, "Environmental Cultural Studies Through Time: The Luso-Hispanic World," was accepted for publication.
Spanish majors are invited to a luncheon Oct. 26 where McKay will share many educational and work experiences that have defined his career path since graduating from Truman with a Spanish major. He is also available for class visits. Contact
Lucy Lee
to schedule a visit.