Bulldogs Finish National Meet with 15 All-American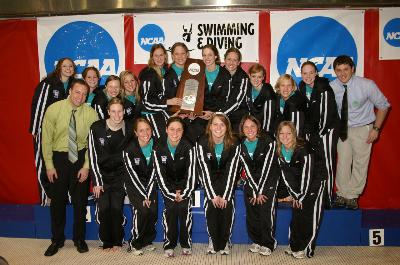 Members of the women's swimming team gather together after receiving their second-place trophy March 17 in Buffalo, N.Y.

The Truman women's swimming team placed second out of 30 teams with 518 points at the 2007 NCAA Division II National Championship meet at the Burt Flickinger Aquatic Center in Buffalo, N.Y.
Drury won the National Championship with 646.5 points. The runner-up finish for Truman marks the first year since 2000 that the Bulldogs have not been crowned team national champions.
Fifteen of Truman's 17 competitors earned all-American or honorable mention all-American honors for scoring at the four-day meet. Swimmers achieved all-American status by placing within the top-eight of an event, and honorable mention all-American honors were bestowed upon those swimmers who scored a ninth- to 16th-place finish.
Among the top swimmers for the Bulldogs was Molly Polette, who won four all-American awards. She scored Truman's only individual national championship at the meet after winning the 500 freestyle on day three.
Brittany Anderson and Whitney Wodstrchill finished the National Championship meet with five all-American awards apiece, the most among Truman's nationals swimmers.
The quartet of Lija Kaleps-Clark, Emily Greenwood, Lindsay Vaughn and Katie Welsh notched four all-American awards apiece. Greenwood led the group with a second-place podium spot as a member of Truman's 200 medley relay team.
Swimming in her first-ever National Championship meet, Kate Aherne scored four all-American honors, including a runner-up finish in the 200 medley relay.
Other members of Truman's second-place nationals team included Erika Anderson, Brigit Brunsman, Jacqui Dempsey, Laura Harp, Jessie Lemaster, Emily Pufall, Nicole Sharp and Catherine Sonnichsen.