Notables
Daniel Mandell
,
professor of history
, spoke on "The American Tradition of Economic Equality" for the keynote lecture at the University of Missouri's Kinder Institute Summer Seminar for undergraduate fellows.
Students
Peter Windsor
,
Ari Vera
and
Yu Xuan Lin
recently traveled to the 2018 MERCURY Conference for undergraduate computational chemistry at Furman University in Greenville, S.C. The students gave poster presentations of research conducted in the Miller research lab during summer 2018 at Truman. Windsor, a senior chemistry and exercise science double major, presented on the inhibitory capability of biflavanoid molecules on the aggregation of Amyloid Beta peptides, biomolecules associated with Alzheimer's Disease. Vera, a senior chemistry major, presented her research on the discovery and design of inhibitors of proteins called calpains, found in patients with Alzheimer's. Xuan, a junior biology and chemistry double major, presented her research on potential inhibitors for the Zika Virus protease discovered using computational chemistry techniques.
Bill Miller III
,
assistant professor of chemistry
, serves as their research supervisor. These research projects will be continued during the academic year.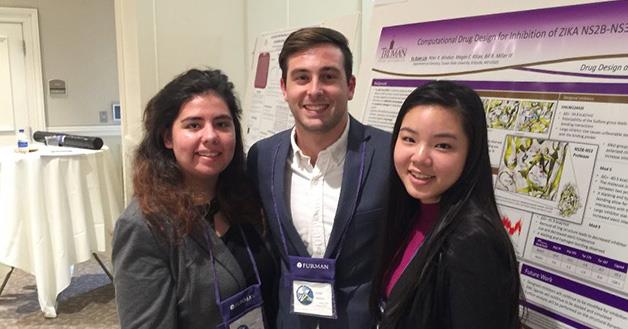 Ari Vera, Peter Windsor and Yu Xuan Lin