Classic Comedy to be Performed April 18-21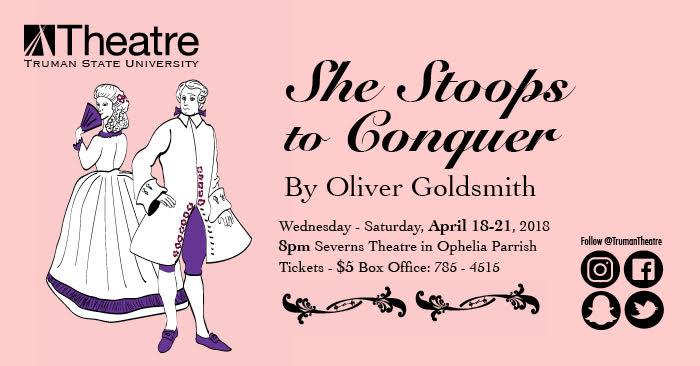 A production of "She Stoops to Conquer," an Oliver Goldsmith's classic comedy, will be performed at 8 p.m. April 18-21 in the James G. Severns Theatre of Ophelia Parrish Hall.
One of the most frequently performed English comedies of all time, the play concerns a shy young man who is on his way to meet his intended bride for the first time but is misdirected. Thanks to the bride's trickster brother, the young hero takes his betrothed's house for an inn, her father for the innkeeper and the bride for a maid. The would-be bride laughs at and then uses the deception to coax him out of some unfortunate inclinations, and all ends happily.
The play was written in 1773, but the production is set in the eighteenth century generally, featuring colorful costumes, combined with period wigs, that create silhouettes. The costumes are designed by Michelle Spencer Davidson. The production will also have some lively country dancing, with choreographic help from Christine Harker, as well as scenery designed by Ron Rybkowski, sound designed by senior Gabe Stringer and lighting designed by graduate student, Jacque Arnold.
The show will be approximately two-and-a-half-hours, plus an intermission, and the content is suitable for all ages. Tickets are $5. For ticket information, contact the theatre box office at 660.785.4515. The box office is open between 11:30 a.m.-5:30 p.m. weekdays and at 7 p.m. on show nights.