Music Faculty to Perform Recital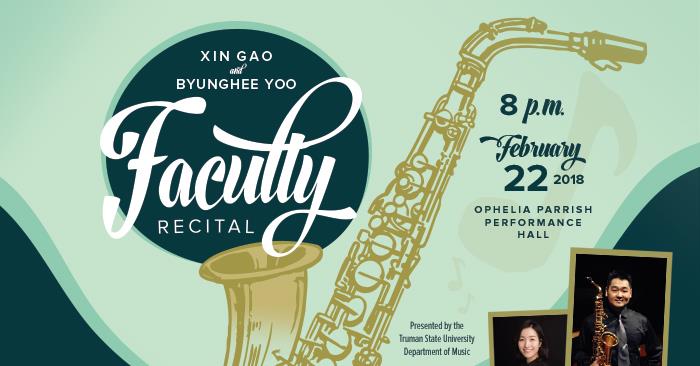 A faculty recital featuring Xin Gao, saxophone, and Bhunghee Yoo, piano, will occur at 8 p.m. Feb. 22 in Ophelia Parrish Performance Hall.
The performance, which is free and open to the public, will include "Largo" by George Frideric Handel, "Sonata en C#" by Fernande Decruck, "Chinese Ancient Dances" by Chen Yo, "Ku Ku" by Barry Cockcroft and "Sonata" by Mark Kilstofte.
Hailing from Chengdu, China, Gao currently serves as assistant professor of saxophone and music theory. Prior to Truman, he taught at East Tennessee State University, the Music Academy of North Carolina, Furman University and Georgia State University. He has received national and international recognition at major world competitions including first place at the Music Teachers National Association National Young Artist Competition in 2011, finalist at the International Saxophone Symposium and Competition in 2014 and as a two-time semi-finalist at the International Jean-Marie Londeix Saxophone Competition in 2008 and 2014. With the chamber group QuadrAtomic Saxophon quartet, he reached the finals of both the Fischoff and Coleman competitions, and the group was awarded the Coleman-Saunderson Prize.
Gao has performed as a soloist in orchestras and recitals across the United States and Asia, including the UNCG Orchestra, the University of Tennessee at Knoxville Orchestra, University of Illinois - Chicago Wind Ensemble, Duquesne Orchestra and the Sichuan Philharmonic Symphony Orchestra in China. He frequently performs lecture recitals at national and international conferences, such as the North American Saxophone Alliance and the Navy Band International Saxophone Symposium. As a chamber musician, his experience with the Sirocco Reed Quintet, New Century Saxophone Quartet, QuadATOMIC Saxophone Quartet and Road of Creativity ensemble have all played major roles in forming his musical identity.
Being passionate about new music, Gao has commissioned new pieces from world-renowned composers such as Sherwood Shaffer, Marc Mellits, David Maslanka and Leilei Tian, and he has collaborated directly with young composers such as Wei Dai in his efforts to bring Chinese music to a wider audience.
A native of South Korea, Yoo is a collaborative artist and chamber musician. She has performed throughout the United States, South Korea and Italy, including appearances at Carnegie Hall, Alice Tully Hall, Merkin Hall, Seoul Arts Center and Sejong Center. She has worked extensively in recitals and masterclasses with renowned musicians, including Itzhak Perlman, Yo-Yo Ma, Pamela Frank, Leon Fleisher, Renee Fleming, Warren Jones, Jake Heggie and Robert Beaser. Yoo came to the United States after receiving top honors at Kyungwon University where she received her Bachelor of Music degree, as a solo pianist, and Master of Music degree, as a collaborative piano student of Younghae Han. She holds her Master of Music degree in collaborative piano at the Juilliard School under the tutelage of Jonathan Feldman, Margo Garrett, J.J. Penna and Diane Richardson. At Juilliard, she was the recipient of the Irene Diamond Graduate Fellowship, the Alexander Siloti Scholarship and the Bernard P. and Leigh M. Seder Scholarship. She earned her Doctor of Musical Arts degree in collaborative piano at the University of Texas at Austin, where she studied with Anne Epperson and was the recipient of the Butler Excellence Scholarship. She has participated in Amati Music Festival in the United States and Tivoli Music Festival in Italy.
Yoo has served as a vocal arts piano fellow and staff pianist at the Juilliard School, Kaufman Music School and McDuffie Center for Strings at Mercer University. She has been a staff pianist at Bowdoin International Music Festival since 2010. She joined Truman as a collaborative pianist in the fall of 2016 and now serves as the coordinator of accompanying for the music department.