For·Words Event to Feature Faculty Novel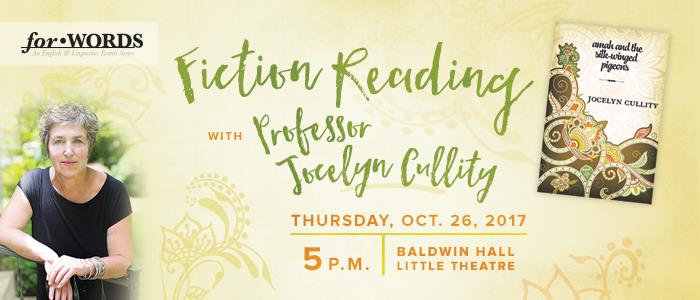 The next event in the For·Words series, sponsored by the Department of English, will take place at 5 p.m. Oct. 26 in Baldwin Hall Little Theatre and feature Jocelyn Cullity and her debut novel "Amah and the Silk-Winged Pigeons."
"Amah and the Silk-Winged Pigeon" begins in Lucknow, India, prior to 1857, the year it was engulfed by tragic historical conflict. The cosmopolitan city of Lucknow thrived on open-mindedness, great prosperity and pride. It was a magnet for musicians, poets, painters and chefs, drawing the finest cultural talent from other parts of India and the wider world. It proved too tempting a prize for the English East India Company not to attempt a takeover of the Kingdom of Awadh with its capital city, Lucknow. The devastation and disaster that came to be known as "the Red Year" was a turning point in the history of Indian colonialism. It gave birth to the self-conscious, anti-colonial nationalism that would define the next 90 years, eventually leading to Gandhi's nonviolent measures to oust the British from India once and for all.
For five generations, Cullity's English family lived in India. When she was 14, she transcribed her great-great-great aunt's diary about being held hostage for five months during the 1857 "Indian Mutiny" in the city of Lucknow, and the event stuck with her. Based on a true story of colonial events in Lucknow, "Amah and the Silk-Winged Pigeons" illustrates for the first time the lost history of the Afro-Indian, Muslim women who fought against the English hoping to save the city they loved.
Among the many journals to publish Cullity's short stories and nonfiction are The Writer's Chronicle, Blackbird, Hayden's Ferry Review, Everywhere Stories: Short Fiction from a Small Planet and Minerva Rising. Her documentary film about young women in China, "Going to the Sea," aired on The Women's Television Network, The Knowledge Network and won the Lester B. Pearson Award for International Development at the REEL Women's Film Festival in Canada. She was born in Australia, grew up north of Toronto, Canada, and has lived for periods of time in both India and England.
Cullity is currently the director of the Bachelor of Fine Arts in creative writing program at Truman.
The For·Words reading is free and open to the public.