Presentation to Examine Endangered Languages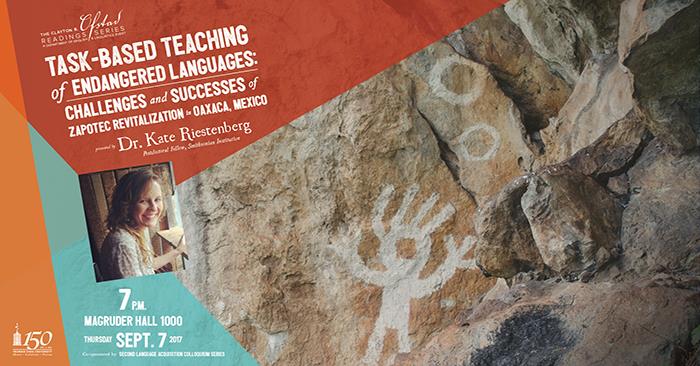 Visiting scholar Kate Riestenberg will present "Task-Based Teaching of Endangered Languages: Challenges and Successes of Zapotec Revitalization in Oaxaca, Mexico" at 7 p.m. Sept. 7 in Magruder Hall 1000.
Riestenberg is currently a postdoctoral fellow at the Smithsonian Institution in Washington, D.C. She conducts research in the areas of second language acquisition and bilingualism, language revitalization, phonology and morphology, with a special focus on the Zapotecan language family (Otomanguean). Her dissertation investigates the acquisition of lexical tone among child second language learners of Macuiltianguis Zapotec.
Additionally, Riestenberg has co-authored publications on measuring awareness in research on implicit language learning and on cross-linguistic influence in early L3 acquisition. She has worked on morphophonological descriptions of two Zapotec languages and led a project investigating the use of task-based methods in a Zapotec revitalization program. Riestenberg has been a research assistant at the Center for Applied Linguistics, received her Ph.D. from Georgetown University and holds a Bachelor of Arts degree in Hispanic linguistics from The Ohio State University.
Presented in partnership with the Second Language Acquisition Colloquium Series, this event is made possible through the Clayton B. Ofstad endowment, which generously supports residencies for visiting writers and scholars for the benefit of the Department of English and Linguistics.