Students Receive Spring Foundation Scholarships, 2007-2008 Scholarship Applications to be Available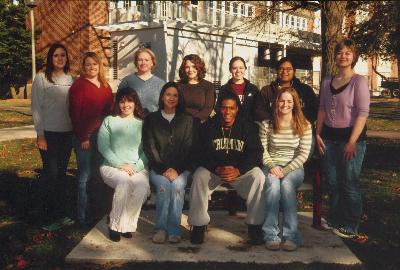 Students who were awarded Foundation scholarships for the spring 2007 semester include (pictured front row, left to right) Danielle Shelley, Pam Stanley, Albert Coker and Laura Harp (back row, left to right) Emmie Combes, Melissa Tennyson, Sarah Shores, Tracey Blasingame, Taylor Wysocke, Katherine Hernandez and another student. Justin Junkel, Gregory Wisa, Lesley Hopke, Emily Null, Jessica Ponder, Nohemi Alvarez, Kenneth Capps, Erika Alexander and Nicholas Kremer are not pictured.

The Truman State University Advancement Office recently announced the recipients of the Spring 2007 Foundation Scholarships. These scholarships are made possible through generous contributions from alumni, parents and friends of the University.
Six scholarships were awarded for the first time, including Howard & Anne Elsberry Opportunity in Business Scholarship, Dr. Mary Giovannini Scholarship, Edward and Marietta Jayne Pre-Law Scholarship, Tricia M. Mason Chemistry Scholarship, UHY Advisors Accounting Scholarship and Dr. Betty Jo White, D.O. Scholarship. Details about these scholarships and others are available at
http://www.truman.edu
. Click on Current Students /Foundation Scholarships.
More than $464,000 will be awarded by the Truman State University Foundation for the 2007-2008 academic year. Applications for upperclassmen will be available on Jan. 18 at
https://secure.truman.edu/isupport%2Ds/scholarships.asp
. For more information, contact the Office of Advancement at 785.4133 or e-mail
bpike@truman.edu
.