Truman Team Wins CFA Research Challenge
The Truman team of Annali Cler, Anthony Hill and Shane Legatzke won the St. Louis Chartered Financial Analyst (CFA) Institute Research Challenge, Feb. 17.
The team conducted equity research and a company analysis of Spire (formerly the Laclede Group). They prepared a written report that was reviewed and scored by a panel of five judges. The team presented their findings, conclusions and recommendations before another panel of judges in a format that was divided into 10 minutes of presentation and 15 minutes of question and answer.
Other teams in the competition hailed from Lindenwood University, Saint Louis University, Southern Illinois University at Carbondale, the University of Missouri at St. Louis and Washington University.
Cler, Hill and Legatzke, who are all members of the Bulldog Student Investment Fund (BSIF), will compete at the National CFA Institute Research Challenge in Seattle, Wash., in early April.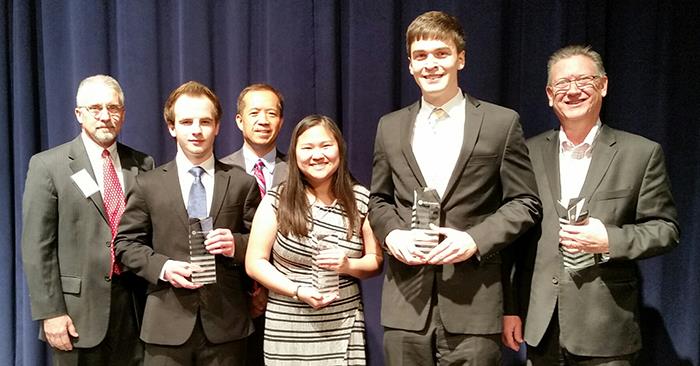 Truman students won the CFA Institute Research Challenge, Feb. 17. Pictured, front row, left to right: Anthony Hill, Annali Cler, Shane Legatzke and faculty mentor Chuck Boughton. Back row, left to right: program co-chairs Michael Smith, CFA, and Dr. Nong Lin, CFA.