Students Present at National Conference
Six representatives from the communication disorders program presented their research at the American Speech-Language-Hearing Association (ASHA) Convention in Philadelphia, Pa., Nov. 17-19.
With more than 14,000 attendees, ASHA is the premier annual professional education event for speech-language pathologists, audiologists and speech, language and hearing scientists.
The six students covered three presentations total. Christina Jones, Madison Kusmec and Callie Templeton presented "A Comparison of the Effect of Straw Phonation and Yoga as a Vocal Cool Down." Jordan Ganter and Michelle Goedeker presented "Noise Exposure and Temporary Threshold Shift." Brandall Bond presented "An Examination of the Prevalence of Diagnostic Testing Modifications to Assess Communication Disorders in African-Americans."
Ganter, Goedeker, Kusmec and Templeton all started their projects as undergraduates. They graduated from Truman in May 2016. Jones graduated in December 2015, while Bond is currently a senior. Goedeker, Jones, Kusmec and Templeton are now in the communication disorders master's program at Truman.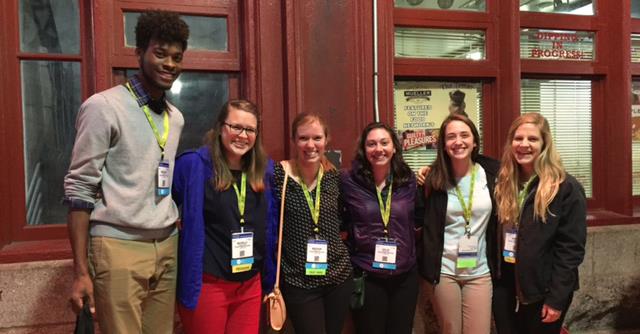 Representatives from Truman visit Philadelphia, Pa., to present at the ASHA Conference. Pictured, from left: Brandall Bond, Michelle Goedeker, Madison Kusmec, Callie Templeton, Christina Jones and Jordan Ganter.