Trivitt Named New Public Relations Intern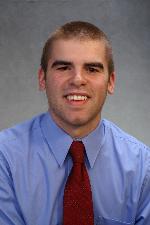 Keith Trivitt
The Public Relations Office has announced Keith Trivitt, senior exercise science major, as its intern for the fall semester. Trivitt, a 2003 graduate of Glendale High School, is from Springfield, Mo. He is the son of Bill and Vicki Trivitt, and has two siblings, twin brother Chris, a senior at Missouri State University, and Brian, a 2001 graduate of Missouri State University.
As the intern, he will assist in the writing, producing and distributing of the University newsletter,
Truman Today
, as well as posting it online. He will also be responsible for editing the calendar on campus Channel 36, writing press releases and performing various office duties.
At Truman, Trivitt currently serves as the Awards Chairman for social fraternity Lambda Chi Alpha, and he previously served as Special Events Chairman. He is also a member of national professional exercise science fraternity Phi Epsilon Kappa. He previously served as an Athletics Media Relations Student-Assistant during the 2005-2006 academic year.
Trivitt's interest in obtaining experience and skills in various communications outlets has led him to this position.