Students Share Nursing Experience from the Philippines
Thirteen Truman nursing students will present their unique experience abroad at 7 p.m. Oct. 13 in the Student Union Building Alumni Room.
This past summer, May 15 to June 7, the senior-level nursing students journeyed half-way across the globe to the Philippines. Under the supervision of two nursing professors, Kit and Steve Hadwiger, the students participated in numerous nursing and cultural exposures, gaining clinical experience with patients and health care delivery from a transcultural perspective.
The presentation will focus on the students' hands-on experience in clinical work and cultural immersion in the Philippines. Specific presentation topics will include: geography, nursing education, family organization and roles, maternity care, STI policies, nursing scope and standards of practice and economic expenses in health care. A video will also be screened showing pictures from their travels.
During the first week in Manila, the students participated in maternal and nursery care where they developed competencies in the assessment of birthing mothers and newborns and cross-cultural communication. Each student had the opportunity to assist in delivering a newborn baby. Students also had the opportunity to assist with patient care in units of their choice, including the major and minor operating room, neonatal intensive care unit, burn unit and emergency department.
From Manila, they traveled south to Iloilo City where the students enrolled in the 16th Transcultural Nursing Program at West Visayas State University. Clinical experiences included home visits, a social hygiene clinic, a leprosarium, and hospital rotations in the medical, pediatric and surgical wards of WVSU medical center.
Communication and cultural accommodation during clinical experiences were facilitated by nursing student buddies from WVSU.
Nursing students who participated include: Shellie Brashears, Megan Doerhoff, Rachel Drury, Jacob Finke, Ellen Hargrove, Hannah Haywood, Tori Holt, Kristen Holwick, Kaylee McCune, Jaclyn Morris, Alyssa O'Brien, Lindsey Purcell and Kyle Sweeney.
The presentation is open to the public and refreshments will be served.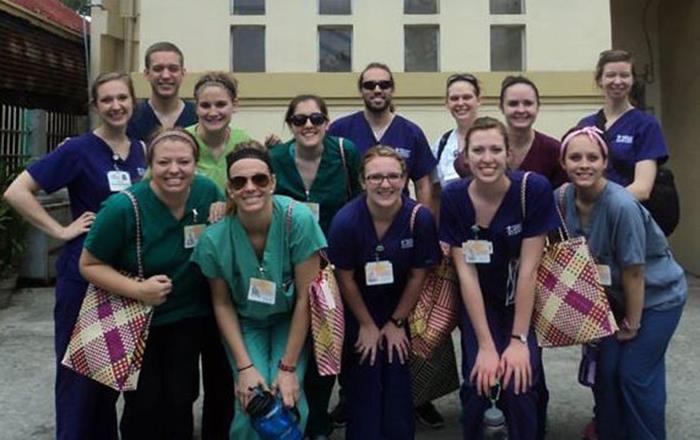 Nursing students stop for a picture while in the Philippines. Pictured, front row, left to right: Hannah Haywood, Jaclyn Morris, Alyssa O'Brien, Megan Doerhoff and Shellie Brashears. Pictured back row, left to right: Kristen Holwick, Jacob Finke, Rachel Drury, Tori Holt, Kyle Sweeney, Kaylee McCune, Ellen Hargrove and Lindsey Purcell.