Women's Swimming Team Wins Sixth Consecutive National Championship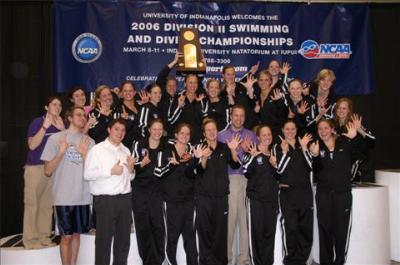 The Truman women's swimming team gathers after winning the NCAA Division II Swimming and Diving Championships in Indianapolis March 11.

The Truman women's swimming team completed its run at history on March 11, winning the 2006 NCAA National Championship. With its sixth straight title, the team has won more championships than any other Division II women's swimming program. The Bulldog men finished just outside the top-10 with an 11th-place finish.
The women's team scored 664 points at the meet, running away with the title. The closest competitor, like the previous five years, was Drury, which had 505 points. Drury won the men's title with 649 points. The Bulldogs finished 11th with 123 points, two shy of a tenth-place finish.
Seventeen of Truman's 18 competitors came home with all-American or honorable mention all-American honors for scoring at the meet.
Head coach Mark Gole was named the women's NCAA Division II National Coach of the Year in his first season at Truman's head coach.