Missouri Teacher of the Year to Speak at Commencement
University alumna Jamie Manker will be the winter commencement speaker at 11 a.m. Dec. 14.
Jamie (Smith) Manker is the reigning Missouri Teacher of the Year. A social studies teacher and department chair at Rockwood Summit High School in Fenton, Mo., she has taught courses in U.S. government, psychology and the American West, as well as world history and advanced-placement world history.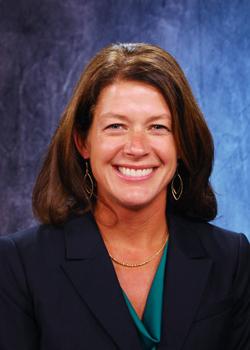 Jamie Manker
The mission of the Missouri Teacher of the Year Program is to honor, promote and celebrate excellence in the teaching profession. Each district in Missouri is eligible to submit an application for a teacher on staff for consideration. Recipients must be highly respected by students, parents, colleagues and the community. The Missouri Teacher of the Year serves as a spokesperson and representative for the more than 70,000 teachers in the state. Only 44 individuals have been named a Missouri Teacher of the Year since the state began participating in the national awards program in 1957. Boeing and Monsanto are corporate sponsors for the program, and SMART Technologies serves as a supporting partner.
In the classroom, Manker strives to empower her students, then pushes them to achieve goals they may not have thought possible. Community service is also a key component of her teaching philosophy, as she provides her students with avenues to participate in various outreach programs, whether it is volunteering at Ronald McDonald House, working at school improvement events or serving as tutors for younger children.
Manker earned her Bachelor of Science degree in history from Truman in 1998 and remained on campus to add a Master of Arts in Education in 2000. She has spent her entire professional career in the Rockwood School District at Rockwood Summit High School. As the Missouri Teacher of the Year, she is eligible for the National Teacher of the Year award, which will be announced in March.
Manker lives in Maryland Heights, Mo., with her husband and fellow Truman alumnus Terrance ('97) and their two children, Kyle, age seven, and Tyler, age five.