Notables
Dereck Daschke, professor of philosophy and religion,
delivered a lecture to the Religious Studies Department at the University of Nebraska – Omaha Sept. 12. The talk was titled "The Most Human Thing We Do: Religion and the Need to Create" and explored the connection between religion, games, art and other forms of creativity.
Huping Ling, professor of history,
is currently serving in the New Changjiang Scholar Program in China. Her tenure will run academic years 2012-2015. Already Ling has published the following articles: "Chinese Chicago: Transnational Migration and Entrepreneurship, 1870s-1930s" in Overseas Chinese History Studies; "Rise of China and Its Meaning to Asian Americans" in American Review of China Studies; "The New Trends in American Chinatowns: The Case of Chinese in Chicago," in Chinatown around the World: Gilded Ghettos, Ethnopolis, and Cultural Diaspora; and "Negotiating Transnational Migration: Marriage and Changing Gender Roles among the Chinese Diaspora" in Routledge Handbook of the Chinese Diaspora. Ling has also presented the following international lectures/keynote speeches: "Current Research Methodologies in Asian American Studies" and "'Chinese Dream' and the New Trends in Transnational Migration" at Jinan University, Guangzhou; "Chinese Chicago: Transnational Migration and Business, 1870s-1930s" at The Research Institute of Modern Chinese History, Wuhan, China; "Rise of China and the New Trend of Transnational Migration" at College of History and Culture, Shanxi University; "Reconstructing Transnational Migration Marriage Patterns—'Taishanese Widows' and 'American Concubines'" during the Fulbright Symposium at Hong Kong University; "Marriage Patterns of Overseas Chinese during the later-19th and Early-20th Century" in Xiamen; and "Rise of China and Its Meaning to Chinese America" during the 8th International Conference on Talents and Development in China, in Wuhan. Ling has also been featured in the following media outlets: "Author Meets Critics," Social Science History Association Annual Conference in Chicago; the feature article "Huping Ling's Never-ending Quest of Knowledge" in Top China "Famous Professor" Section; on the Hubei television station in Wuhan, Hubei Province; in an interview on Chinese railroad workers for Transcontinental Railroad for The World Journal; and in an interview on Overseas Chinese remittance to homeland for The World Journal.
Daniel Mandell, professor of history,
has been elected to the advisory board of the Anti-Defamation League (ADL), Missouri and Southern Illinois region.
H. David Wohlers, professor of chemistry, and Truman alumna Caitlyn M. McGuire ('12)
presented their paper "Blind student encounters chemical principles laboratories at Truman State University," during the Current and Future Trends to Provide Equal Access to Chemistry and Science Curricula for Students with Special Needs session of the 246th American Chemical Society meeting Sept. 10 in Indianapolis, Ind. McGuire is a current graduate student at Bloomington Indiana University.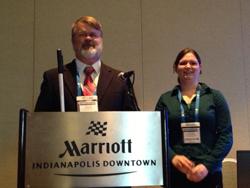 H. David Wohlers and Caitlyn McGuire present their paper
at the 246th American Chemical Society meeting
.