Solar Panels Added to Campus Buildings
In an effort to reduce University energy consumption and make the campus more sustainable, solar panels were installed on five buildings during the summer.
Barnett Hall, Ophelia Parrish, the Student Union Building, Magruder Hall and the Health Sciences Building all had solar panels installed on the roof. Each building can produce up to 25 kilowatts, accounting for about two percent of their total electrical needs for any given year. At the current cost of electricity, the solar panels should save at least $2,400 per year.
While the economic benefits to the University are a plus, they are not necessarily the driving force behind the installation of the solar panels. Truman's strategic plan calls for making campus more sustainable by reducing the consumption of resources.
Additionally, the solar panels will eventually be connected to monitoring software that instructors can incorporate into their classrooms. Students will be able to see how much electricity the panels produce and get a better understanding of how they work.
The implementation of the solar panels on campus is due largely to the work of representatives from the President's Sustainability Action Committee, Facilities Management and Campus Planning. In March, the small group presented the idea to the University administration. Shortly thereafter, a request for proposals was sent out and a contract was awarded to Brightergy of Webster Groves, Mo. Installation began in early August and the panels were producing electricity by the first week of class. Additional panels may be added in the future.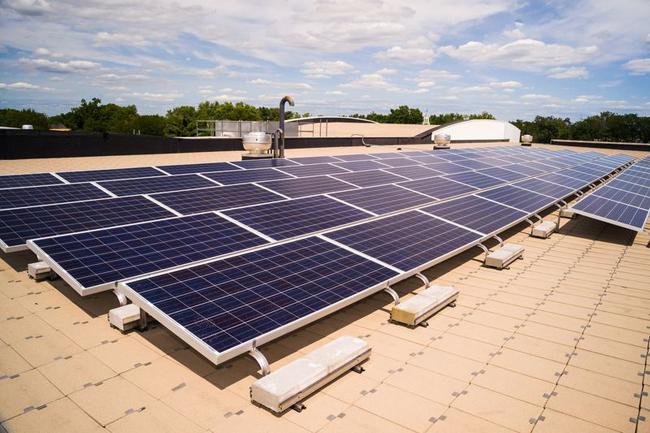 Solar panels were added to five buildings on the University campus to reduce energy consumption and increase sustainability.