Notables
Justice systems students Daniel Hillen and Kristen Little
have each recently been published. Hillen's review of "Experiencing Corrections: From Practitioner to Professor," was published in the latest edition of the International Journal of Criminal Justice Sciences. Little's review of "Criminology: The Essentials," has been published by the Internet Journal of Criminology.
Darla Honn, assistant professor of accounting
, had her paper, "The Effects of Cognitive Misfit on Students' Accounting Task Performance," accepted for publication by Issues in Accounting Education. Her co-author is Joseph Ugrin of Kansas State University
Betty McLane-Iles, professor of French
, attended and represented Truman at the French Colonial History Society in New Orleans in May. Along with others, McLane-Iles provided input in response to panel discussion on pedagogy and history. In contrast to others, she spoke of the challenges of her own interdisciplinary approach to teaching literature and advanced French language in a historical context to illustrate the strong need to integrate basic historical understanding into the undergraduate non-specialist learning experience. McLane-Iles also participated and assisted in responding to a session on displacement within works of French/Francophone literature influenced by the European perspective of orientalism.
Sam Spencer, a communication major
, earned a Certificate of Merit from the Missouri Broadcasters Association in the 2012 MBA media contest. Spencer was awarded the second-place honor in Radio Feature Reporting. The award was presented June 2 at the annual MBA awards banquet at Lake of the Ozarks. Spencer's audio feature, "Drag Racing and the American Way," examined the strong tie of a local family to the national drag racing circuit. Spencer's entry, which originated in a media writing course (COMM 251), was mentored by Mark Smith and Don Krause. Spencer competed against commercial radio news organizations statewide.
Lin Zhang, assistant professor of business administration, and Debi Cartwright, professor of business administration
, along with Baolong Ma of the Beijing Institute of Technology, had their paper entitled "The Impact of Online User Reviews on Cameras Sales" accepted for publication in the European Journal of Marketing.
Mike Elam, Physical Plant staff
, received the Mentor of the Year Award at the 2012 MIAA Awards Banquet June 7 in Kansas City, Mo. Elam was nominated by the Truman Student-Athlete Advisory Committee for the Mentor of the Year Award for his dedication, friendliness and donations to all student-athletes he encounters while working in Pershing Building. He has donated handcrafted stained glass art to many team and SAAC fundraising events.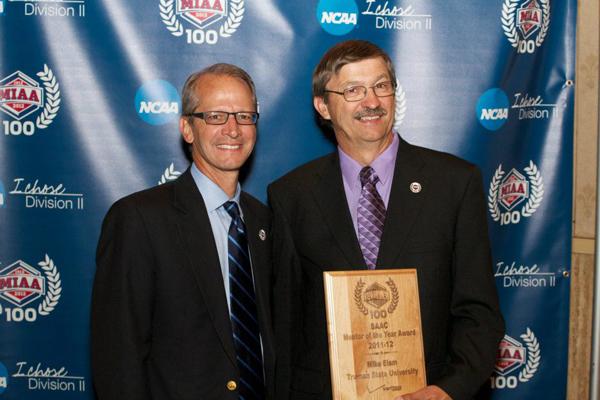 Mike Elam, right, with University President Troy Paino at the MIAA Awards Banquet.