Professors Perform with Kansas City Symphony
Gregory Jones, professor of music and Steven Seward, lecturer in music, performed with the Kansas City Symphony for the grand opening of the Kauffman Center for the Performing Arts in Kansas City, Mo.
The event featured jazz pianist and vocalist Diana Krall, operatic tenor Placido Domingo and violinist Itzhak Perlman among many artists who joined the symphonic performance.
Seward is the principal tubist for the Kansas City Symphony and Jones regularly joins as an extra trumpet player.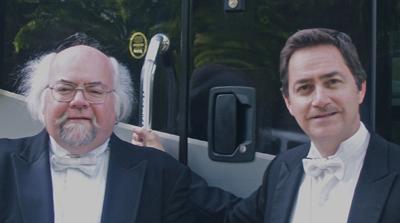 Steven Seward (left) and Greg Jones pose for a picture at the opening of the Kauffman Center.