Choo Named 2011-2012 Presser Scholar
Jenny Choo, a piano performance major from Wentzville, Mo., has been named a Presser Scholar for the 2011-2012 academic year.
The "Presser Undergraduate Scholar Award" is given to an outstanding music major at the end of his or her junior year. The Presser Foundation honored Choo with this prestigious award this spring.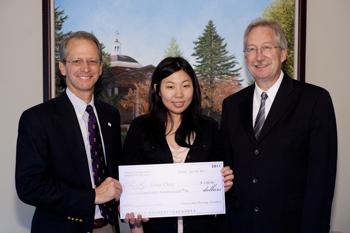 University President Troy D. Paino (left) and David McKamie, professor of music, (right),
congratulate Jenny Choo on being a 2011-2012 Presser Scholar.
During her college career, Choo has been the keyboard player for various ensembles, including the Wind Symphony, the Truman State University Orchestra, University Chorus and Cantoria. For the past three years, she has performed four solo recitals and worked collaboratively in various student and faculty recitals.
In 2010, Choo was selected as a winner of the Gold Medal competition in which she performed the first movement of the Shostakovich Piano Concerto No. 2 with the University Orchestra.
After studying at Truman with David McKamie, professor of music, Choo plans to pursue degrees in both collaborative and solo piano in her graduate studies.
Theodore Presser is remembered not only as the publisher of Etude, the music magazine, and as the founder of the great music publishing firm bearing his name, but also as a philanthropist who specialized in music education.