Pickler Memorial Library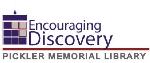 CONNECT TO THE LIBRARY FROM HOME!
Need to do a little research while at home or away from campus? You can connect to the library's many databases and online journals from an off-campus computer anytime!
You will find the directions for setting up your computer for remote access at
http://library.truman.edu/help/connect-from-home.asp
.
Many library resources are only a click away!