Notables
Rich Freese, a music graduate student,
had two original compositions receive significant performances this fall. "The Waterfalls of Iceland" for concert band will be performed at the national Society of Composers 2010 Conference at the University of South Carolina on Nov. 13. The composition, which was selected from several hundred scores by a juried process, will be performed by the USC School of Music's "New Horizons" concert band. Freese's guitar piece "Scattered Memories" also received a performance on the "New Music Hartford" concert series in Hartford, Conn., Sept. 18.
Daniel Mandell, professor of history,
had his article "Eager Partners in Reform: Indians and Frederick Baylies in Southern New England, 1780-1840," published in "Native Americans, Christianity, and the Reshaping of Early America's Religious Landscape."
Mike McCarthy, a senior accounting major, and Spencer Clark, a senior biology major,
qualified for the National Guard FLW College Fishing Regional Championship to be hosted by Indiana University Nov. 4–6 on Lake Monroe. McCarthy and Clark finished fifth and second respectively in the qualifying tournaments on Bull Shoals Lake and Lake Ouachita and earned the University a $3,500 donation. If they win at the regional championship, the University will receive a $25,000 unrestricted donation and the student's bass-fishing club will receive a Ranger 177TR bass boat valued at $25,000. The top five teams at the regional championship will also advance to the national championship for a shot at winning $50,000 for their school and $25,000 and a Ranger 177TR bass boat for their club. Last year, McCarthy and Clark finished in sixth place at the College Fishing Challenge in Murray, Ky.
Marc Rice, associate professor of musicology,
had his paper "Cincinnati's "Jazz Ark:" WNOP and the Rise and Decline of Radio-Free Jazz in the Heartland," accepted for the national meeting of the Society of American Music. Rice's paper draws from archival research and personal interviews to examine the role of jazz radio in the musical life of his hometown. The Society is an internationally recognized academic organization of musicologists, writers and scholars who focus on American music. The conference will be attended by approximately 800 members, and will take place in Cincinnati in March 2011.

Gregory Jones, professor of music
, returned to the Greek island of Corfu in July as a faculty member for the Melos Brass Ionian Music Academy. He taught master classes on trumpet and was a featured performer along with hornist Eric Ruske (Cleveland Orchestra, Empire Brass), trombonist Don Lucas (Boston University) and professional brass players from several Greek orchestras. Truman senior music major
Michael Duncan
(trombone) was also a participant in the seminar.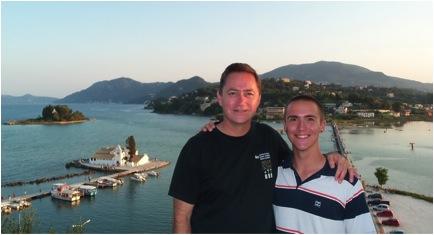 Jones (left) and Duncan on the famous Kanoni hill on Corfu.