Foudree to Present Address at Truman's Summer Commencement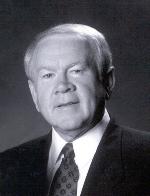 Charles M. Foudree will deliver the commencement speech at 6:30 p.m., Aug. 5, on the Quadrangle. The commencement rain site is Baldwin Auditorium. About 106 undergraduate and 72 graduate students will be marching during the commencement ceremonies. In addition to these graduates, Truman will have 21 golden alumni, who graduated from 1955 and prior to participate in the ceremony. About 35 golden alumni will attend the Golden Alumni Reunion luncheon at 12:30 p.m. in the Student Union Building Georgian Room. A reception for all graduates will follow commencement on the Quadrangle.
Foudree devoted his entire career to the field of accounting and finance.
He retired as executive vice president of finance for Harmon Industries after 27 years of service to the company. Harmon Industries Inc., located in Blue Springs, Mo., is a worldwide supplier of high-tech signal and train control products and manufactures an extensive line of equipment designed to improve the operating efficiency and safety performance of its customers. Foudree went to work for the company in 1972 and was named executive vice president of finance of Harmon in 1986, the position he held until he retired in July 1999. Prior to that, he was employed by Peat Marwick Mitchell and Company for six years as a Certified Public Accountant.
In 1995, Foudree served as Truman's Division of Business and Accountancy's Executive-In-Residence, and he is a past president of the Truman State University Foundation Board of Directors.
He is active in Truman's Kansas City Alumni Chapter and was named Truman's 1999 Alumnus of the Year. Foudree graduated from Truman State University in 1966 with a Bachelor of Science degree in accounting.
Foudree is a member of the Financial Executives Institute. He is past director of the national organization and past president of the Kansas City chapter.
He is also a member of the Missouri Society of Certified Public Accountants, of the American Institute of Certified Public Accountants and the Independence Rotary Club. Foudree is a member of the Administrative Board and past chairman of the Board of the Christ United Methodist Church of Independence.
He currently serves as director of Sceptor Industries, Inc., Carondelet Health and Friends of Powell Gardens Board. He serves as a director and treasurer for the Harry S. Truman Library Institute. He also serves as the director and chair of finance committee of the St. Paul School of Theology.
He and his wife, Colleen, reside in Lee's Summit, Mo., and have a daughter, Melanie, and a son, Mark.