Foundation Banquet Celebrates University Supporters
Truman recognized two local couples and a Kirksville company at this year's Truman State University Foundation Banquet April 10.
The annual banquet provides an opportunity for the University to thank its many supporters and recognize those who have demonstrated an outstanding commitment to enhancing the educational experience for Truman students.
Among this year's honorees were two couples - Darrell and Nancy Krueger and Stan and Doris (Pickens) Bohon - who were recognized with the President's Leadership Award. The award, which is considered one of the most prestigious awards presented by the University, honors select Truman alumni and friends for meritorious service through their gifts of volunteerism, expertise and financial resources.
In addition, Preferred Family Healthcare, a not-for-profit agency that provides mental health and substance abuse treatment and prevention services, was presented with the Distinguished Corporation/Foundation Award in recognition of the company's exemplary support to the University. The company is headquartered in Kirksville and serves clients from 31 locations throughout Missouri, as well as Texas and Kansas. Michael Schwend, president and chief executive officer of Preferred Family Healthcare, accepted the award on behalf of the company. Schwend is a former member of Truman's Board of Governors, and he earned two degrees from Truman - a bachelor of science in social science (psychology) in 1983 and a master of arts in counseling and guidance in 1990. He also received a master of business administration from William Woods University in 1997.
Truman has benefited from two decades of service from Darrell and Nancy Krueger. Last year, the Kruegers made a leadership gift to support the "Investing in Students" fundraising initiative that was established to provide financial support for Truman students in the midst of a difficult economy.
Prior to becoming the 15th president of Truman, Dr. Krueger served as president of Winona State University in Minnesota for 16 years, retiring from that position in 2005. He began his career at Truman in the early 1970s as a member of the faculty for two years before being appointed vice president for academic affairs and dean of instruction. During that time, Truman underwent major transformations involving the mission and curriculum of the institution. He returned to Truman in October 2008 to assume the role of president.
Dr. Krueger graduated summa cum laude as co-valedictorian from Southern Utah State College in 1967, with a bachelor of arts degree in political science and history, and he earned a master's degree in 1969 and a Ph.D. in 1971 from the University of Arizona-Tucson. A member of Phi Beta Kappa, he is the 50th Woodrow Wilson Fellow to become a college or university president.
An Arizona native, Nancy was born and raised in Tucson and attended Eastern Arizona College. Shortly after returning from a mission to Toronto, Canada, she met Dr. Krueger who was finishing his graduate studies at the University of Arizona. The two married, and after Dr. Krueger completed his graduate studies in 1971, he accepted the position of assistant professor of political science at Truman. For the next 18 years, the Kruegers lived in Kirksville where they raised their four children. Two of their children are Truman graduates.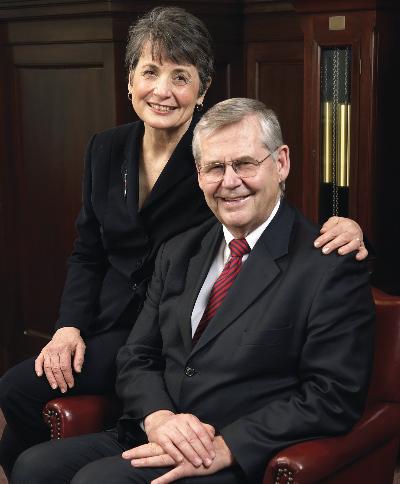 Darrell and Nancy Krueger
In addition to caring for their family and supporting her husband in the various roles his jobs have required, Nancy has served in a number of positions in the church. A compassionate service leader, she has taught in the church's institute and seminary programs, provided instruction for youth courses, and served as a shift coordinator for the St. George Temple. Previously, she served as president of the Relief Society, a philanthropic and educational women's organization.
Stan and Doris Bohon met while attending Truman, and the Kirksville residents have been avid supporters of their alma mater. Dr. Bohon spent three years as a student at Truman before attending the University of Missouri School of Dentistry. He joined his father and brother in the Bohon Dental Group in Kirksville and retired in 1991. Doris graduated from Truman in 1943 with a bachelor of science in education with two majors - business education and physical education.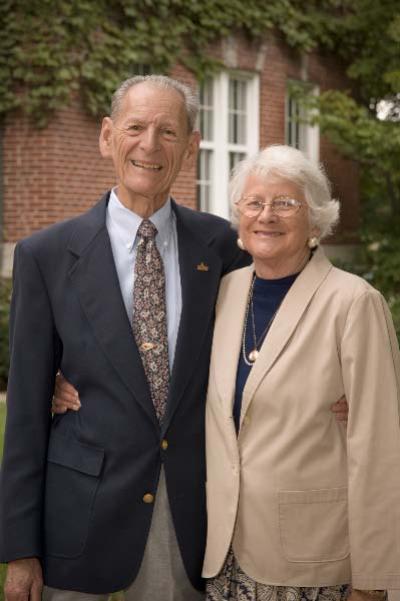 Stan and Doris Bohon
Longtime supporters of Truman, the couple established an endowed fund at Truman to provide greater access to study abroad opportunities for students. The Bohons are currently serving among the alumni volunteers assisting with the ongoing $30 million "Bright Minds Bright Futures" campaign, the largest fundraising initiative in the history of Truman.
Doris served on the Truman State University Foundation Board for six years and was a member of the Kohlenberg Lyceum Series Centennial Celebration committee, which worked to increase the endowment for the series in honor of the Lyceum's 100th anniversary. In 2004, the University presented Doris with a Distinguished Service Award.
Both Dr. Bohon and Doris have held a number of leadership roles in the local community. Dr. Bohon is past president of the NEMO Dental Society and the Kirksville Lions Club. Doris is past president of the Sojourners Club and the Becky Thatcher Area Girl Scout Council and also served as a troop leader. In 1981, Doris received the Citizen of the Year Award presented by the Kirksville Area Chamber of Commerce, and she has been active in the Monday Club and the Chapter CW of PEO. Both Dr. Bohon and Doris have also served as elders and clerks of session at the First Presbyterian Church.
Over the last decade, Preferred Family Healthcare has made major investments in a variety of programs at Truman including football, cheerleading and the Kohlenberg Lyceum Series. In addition, numerous students have benefited from the Preferred Family Healthcare Scholarship, which was established in 2004.
Preferred Family Healthcare also helps students prepare for successful careers by providing valuable internship opportunities in the areas of psychology, communication, nursing, justice systems and health science. In addition, the company is an active participant in the University's annual Career Expos, and nearly 50 Truman alumni are employed by the company.