Mask Policy Remains in Place, Will be Reviewed Nov. 5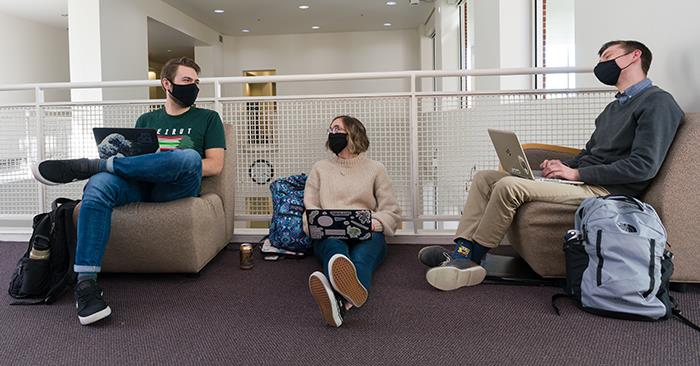 After considering a variety of factors, including recent campus surveys, the number of active cases in Adair County, the advice of public health professionals and CDC guidance, Truman will continue the current mask policy and will review and reevaluate the policy by Nov. 5.
Masks are required inside all campus buildings, regardless of an individual's vaccination status. The only exceptions are for dining and when in a personal residence hall room or office.
Extension of the mask policy is done in consideration of the community as a whole.
Cases in Adair County
continue to be substantial and are
predicted
to remain so over the next four weeks. As such, based on
information from the CDC
, the community transmission risk remains "high." Everyone in the county is advised to wear a mask in public, indoor settings, according to the CDC and the Adair County Health Department.
While recent surveys of all students and employees suggest a large portion of the campus community is vaccinated, a significant segment is not. The faculty/staff response rate was 66% and of those who responded the vaccination rate was 97%. For students, the response rate was 53% and for those who responded the vaccination rate was 93%. This makes the known vaccination rate for faculty/staff 65% and students 50%. While these numbers are promising, the University needs more people to complete the survey and get vaccinated. Getting vaccinated is the most effective way to mitigate the spread of COVID-19 in the Truman and Kirksville communities. Everyone who can get the vaccine is encouraged to do so.
Truman recently created incentive programs for student clubs/organizations, athletic teams and residence halls, as well as for employees. The last date for the incentives to be earned is Nov. 1. Therefore, the mask mandate will be reviewed Nov. 5 to ensure the full benefit of the incentive programs can be considered.
The vaccine is readily available at local pharmacies, and the University will conduct an additional on-campus clinic that meets the date requirements of the incentive programs. A new link for the survey will be provided for those who have not yet participated.