Truman Wins COVID Award
Truman was named as an Education Champion in the COVID Stops with Us recognition program.
COVID Stops with Us is a group of local organizations and individuals committed to promoting safe practices in the Kirksville area to prevent further spread of the coronavirus. Its weekly recognition program highlights the work of those in the community committed to making a positive impact. Truman was nominated for its efforts to keep students on campus, safe and in classes as much as possible during the pandemic. They also provided for faculty and staff what was needed to ensure health, safety and continual operation.
Each week, three "champions" – one for the medical field, the education sector and the community at large – are acknowledged for their efforts. Nominations are ongoing and can be made
here
.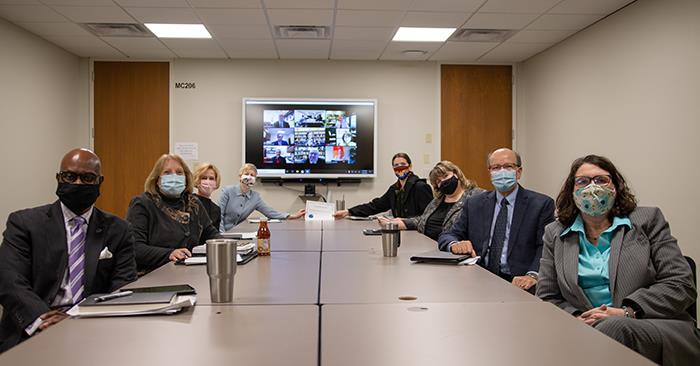 President Sue Thomas accepts the Education Champion Certificate from Carolyn Chrisman, director of Kirksville Reginal Economic Development Inc. Also pictured, from left, Ernie Hughes, vice president of advancement; Donna Liss, chief information officer; Janet Gooch, executive vice president for academic affairs and provost; Thomas; Chrisman; Tyana Lange, vice president of enrollment management and marketing; Dave Rector, vice president for administration, finance and planning; and Janna Stoskopf, vice president for student affairs.