Theatre Department Presents Pride and Prejudice Adaptation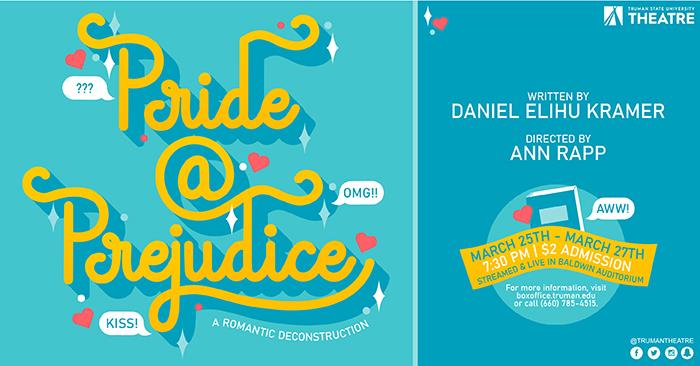 Truman Theatre's next production of the year, "Pride@Predjudice," will run nightly at 7:30 p.m. March 25-27.
"Pride@Prejudice" is a hilarious and moving tribute to one of Jane Austen's most beloved novels. This play watches Elizabeth Bennet and Mr. Darcy fall in love all over again, this time filtered through the world of the internet. Modern voices interject and build on this classic love story in the form of blog posts, chat rooms, quotes from film adaptations and letters from Austen herself to establish a postmodern view of 19th century England.
"Pride@Prejudice" is appropriate for audience members of all ages. Runtime is approximately 150 minutes with a 10-minute intermission. To continue to create a safe and socially distanced atmosphere, this performance will be available as both a live performance and streamed online from Baldwin Hall Auditorium.
Tickets for live admission are $2 and online are $5. All tickets can be purchased at
boxoffice.truman.edu
. Once a ticket for online streaming has been purchased detailed information on how to access the live stream will be provided. There is a limit of 250 audience members per performance. For more information, contact the Truman Theatre Box Office at 660.785.4515 between 11:30 a.m. and 5:30 p.m. Monday through Friday.