TruTech Challenge Winners Named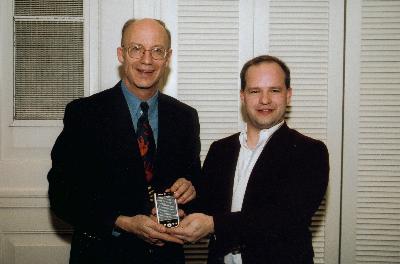 Fred Shaffer (left) and Chad Mohler (right)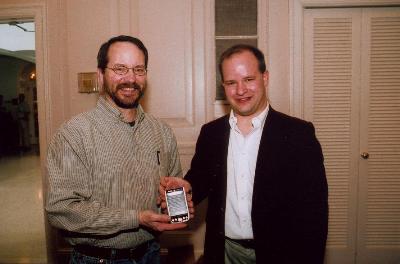 Jon Beck (left) and Chad Mohler (right)
The TLTR has announced the grand prize winners of the annual TruTech Challenge. Fred Shaffer, professor of psychology, and Jon Beck's fall 2004 computer science 275 class took top honors in the competition of faculty, staff and student projects showcasing effective educational uses of technology.
Shaffer submitted his Biofeedback Tutor interactive CD-ROM, which he uses as an electronic textbook for his applied psychophysiology course. Beck's class submitted their graphical enhancements to SALSTAT, an open-source statistics software program.
Both winners received X50v personal digital assistants donated by Dell.
Their projects will be featured on the TLTR Web site at http://tltr.truman.edu.
Other projects receiving honorable mention include submissions by Alexander Horn, Evonne Bird, Doug Davenport, Paula Cochran's TSR student research group, Erin Haslag and Tiffany Marchbanks, Carol Cox and her health 310 class, Joseph Frana and Ray Jagger. Several sponsors including Sodexho, the Truman Bookstore, Patty's University Bookstore, and makers of the FeedForAll, FeedDemon, and Respondus softwaredonated $1,000 worth of prizes to those earning honorable mention.
The TruTech Challenge prizes were awarded at Truman's Third Annual Technology Fair on the afternoon of the University Conference, Feb. 16. The Teaching/Learning Technology Roundtable (TLTR) sponsored the Fair.