Truman Forensics Has Successful First Tournaments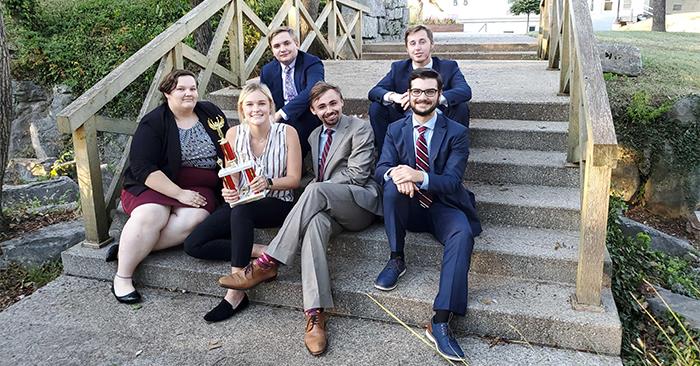 Truman's forensic union started the 2019-20 competitive season strong at the Western Kentucky University Round Robin and Fall Fiesta Tournaments, Sept. 19-22. The team placed third in combined speech and debate sweepstakes and brought home four national qualifications.
Lincoln-Douglas (LD) debate opened season Sept. 20 at the Alexis Elliot Memorial Round Robin, a bid-based tournament where entries are determined by past success. In a field of the most successful debaters in the nation, junior Cami Smith cemented her place among the best by earning sixth speaker. Smith continued to have a successful weekend when she and fellow junior Peyton Gilbert reached octafinals in LD during the Fall Fiesta tournament Sept. 21 and Sept. 22. Gilbert also earned an additional award as sixth speaker for the tournament.
In individual events, senior Austin Sopko reached the final of impromptu speaking on the first day of the tournament and earned sixth place. On the second day, freshman Lucah McCullough also reached finals of impromptu speaking in their first college tournament. McCullough placed fifth and earned the top novice award for the event.
The team will travel next to Southwest Baptist University for the annual Derryberry Memorial tournament, Oct. 3-5. For more information on how to get involved, visit
forensics.truman.edu
or contact
Christopher Outzen
, director of forensics or
Craig Hennigan
, assistant director of forensics.