Notables
Four Bulldog football players earned first team All-Great Lakes Valley Conference and 10 players overall were honored by the league following the 2017 season. Named to the first team were: senior offensive lineman
Matt Kaysinger
; senior defensive back
Jordan Brow
n; junior kick returner
Malique Robbins
; and sophomore defensive end
Sam Reeves
. Second team honors were awarded to: senior linebacker
Justin Mikeworth
; sophomore running back
Jordan Salima
; and freshman full back
Jacob Morris
. Senior defensive end
Isaiah Hinton
, junior tight end
C.J. Brown
and sophomore linebacker
Bryan Edwards
were honorable mentions. In addition, sophomore quarterback
Jaden Barr
was the team's nominee for the James R. Spaulding Sportsmanship award, and the team earned the overall Spaulding Sportsmanship award for the third straight season.
Four Bulldog volleyball players earned All-Great Lakes Valley Conference honors for the 2017 season. Senior
Jasmine Brown
and sophomore
Lauren Wacker
were named to the first team while juniors
Natalie Brimeyer
and
Savvy Hughes
were featured on the second team.
Zach Fischer
was named the Great Lakes Valley Conference Men's Basketball Player of the Week, Nov. 13. Fischer averaged a double-double with 20 points, 10 rebounds, 2.5 steals, and 2.0 assists per game while shooting 77.8 percent (14-for-18) from the field and 80 percent (4-of-5) from behind the arc.
Barry Poyner
,
professor of communication
, presented a program and presented a paper at the National Communication Association in Dallas, Texas, Nov. 18, entitled "Civility Be Damned: Measuring Conflict through Obstructionist Parliamentary Motions." His paper focused on "Filibusters and Intellectual History." Poyner also chaired a program, Nov. 16, for the Peace and Conflict Communication Division titled "The Relevance of Theory: Examining Intractable Conflict." Poyner serves as parliamentarian for the national organization.
Truman students
John Bickel
,
Stephen Plassmeyer
,
Peter Windsor
and
Zachary Smith
gave research poster presentations at the 9th Annual ATSU Interdisciplinary Biomedical Research Symposium, Nov 11. Bickel, a senior chemistry major, presented his research investigation for potential inhibitors of HIV's Viral Infectivity Factor (Vif) protein. Plassmeyer, a senior biology/chemistry double major, presented on the inhibitory capability of biflavanoid molecules on the aggregation of Amyloid Beta peptides, biomolecules associated with Alzheimer's Disease, which is part of an on-going collaboration with Dr. Henry Han at ATSU. Windsor, a junior chemistry/exercise science double major, presented on his computational drug discovery project on the Zika Virus Protease enzyme. Smith, a sophomore biology/chemistry double major, presented his research on potential inhibitors for the enzyme APOBEC3B, which is known to be over expressed in both cancer and HIV patients. Windsor won the Sigma XI award for Best Undergraduate Research Poster presentation, and Plassmeyer won the Sigma XI award for Best Overall Research Presentation. Both awards came with a certificate and monetary compensation courtesy of Sigma XI.
Bill Miller III
,
assistant professor of chemistry at Truman
, served as their research supervisor and accompanied them at the conference. These students will be continuing their research projects during the academic year in the Miller Research Lab.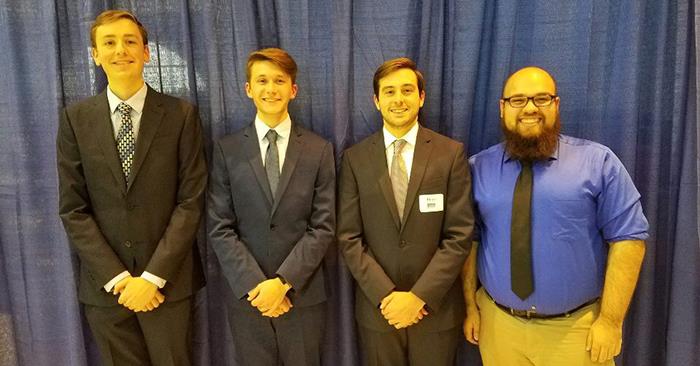 Pictured from left to right: Zachary Smith, Stephen Plassmeyer, Peter Windsor and John Bickel.