Harlem Documentary Screening Includes Q&A with Filmmaker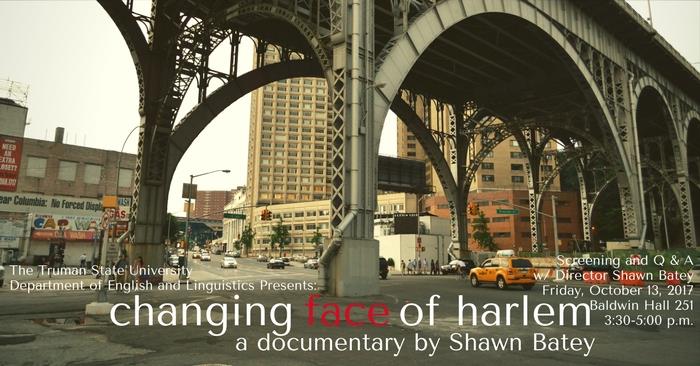 Filmmaker and former Truman student Shawn Batey will return to campus for a screening of her new documentary, "Changing Face of Harlem" at 3:30 p.m. Oct. 13 in Baldwin Hall 251, followed by a question and answer session.
Batey, an award-winning filmmaker, has more than 15 years of experience as a producer, filmmaker and writer of documentary films and videos.
A one-hour documentary that examines the revitalization of Harlem, "Changing Face of Harlem" is told through the deeply personal stories of its residents, small business owners, politicians, developers and clergy. Identified as the birthplace of the Black Renaissance, the film takes a critical look at Harlem's history, early development and its present transformation. Production began in 2000 and continued over a period of 10 years.
"Changing Face of Harlem" was chosen as an official selection for the San Diego Black Film Festival, the San Francisco Black Film Festival, Big Muddy Film Festival, Reel Sisters Film Festival and numerous other festivals and conferences nationwide. The film has also screened at Maysles Cinema, Anthology Archives and CUNY Gotham Center.
Third World Newsreel is the distributor of "Changing Face of Harlem" as well as two other of Batey's films: "Hair-Tage," a cultural documentary on dreadlocks, and "Through My Eyes," an interpretation of September 11th from the perspective of Latino and African-American youth. Her additional credits include "60+," a musical documentary of an all-female senior citizen band, "Making the World Feel Better," "The P.S. 230 Mural Project" and "Tree Fever," a quirky look at Christmas tree sellers in Upper Manhattan.
The documentary screening and question and answer session are sponsored by the Department of English and Linguistics. Both are free and open to the public.