Photo Donation Honors University History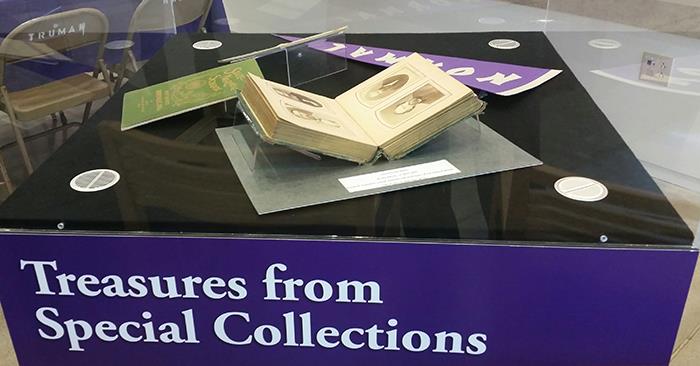 A photo album containing pictures of former University presidents, along with faculty members and students, sits on display in the Ruth W. Towne Museum and Visitor Center.
During this sesquicentennial year, those interested in University history have a new resource to explore thanks to a unique donation from an alumnus.
This summer, alumnus John R. Andrews ('83) generously donated an old photo album containing 1860s and 1870s tintype photos to the University. His hope was that such a collection might generate additional interest and spark research opportunities during Truman's 150th anniversary year.
"Images tell such a more interesting story than just facts," Andrews said. "I was hoping this album would be a great tool for the sesquicentennial celebration, to tell real stories."
The album contains tintypes and early photographs of Joseph Baldwin, John R. Kirk and William P. Nason, as well as many other faculty and students from the earliest years of the normal school.
"We deeply appreciate Mr. Andrews' gift to the University Archives," said Amanda Langendoerfer, associate dean of libraries for special collections and museums. "An album containing early photographs of our founder and the other people who helped shape the University is indeed a treasure. Donations such as this one help us keep our legacy alive."
The album, which is now part of the University's special collections, is currently on display in the Ruth W. Towne Museum and Visitor Center. During this sesquicentennial year, alumni, faculty, staff, students and other visitors are encouraged to come explore the University's heritage at the
Special Collections Department
of Pickler Memorial Library.