Enactus Seeks New Members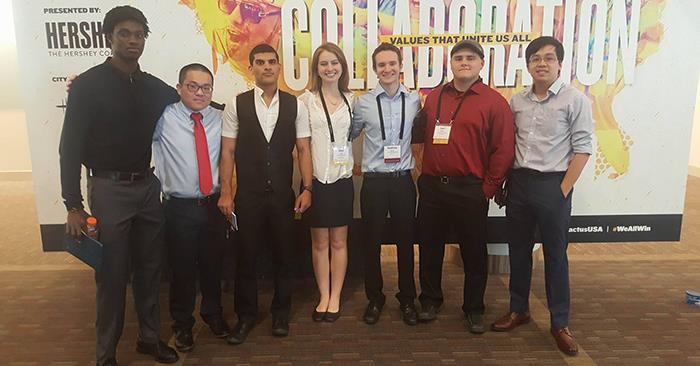 Students from Truman attend the Enactus United States National Exposition in Kansas City in May. Pictured, from left: Ifeanyi Nnaji, Youxing Yang, Hamza Raja, Alex Frogge, Andrew Barrett, Levi Collinge and Anh Bui.

Truman's chapter of Enactus will host an information meeting and complimentary pizza dinner at 6 p.m. Sept. 5 in Magruder Hall 2050.
Enactus
is an international nonprofit organization of academic leaders, business leaders and students committed to using entrepreneurial action to transform lives and create a better, more sustainable world.
Every year the group attempts to create sustainable solutions to meet the needs within the community. A previous project started the bike co-op on campus. Currently the group is addressing mental health on campus, the integration of Congolese people into Kirksville and practical experience for business majors. Other projects are welcome.
Enactus takes their projects to competition where more than 550 corporate partners from top companies such as Hershey, Target and Dell judge how effectively teams use entrepreneurial action to sustainably create a better world. They also hold huge career fairs only open to Enactus students.
Participation in Enactus is open to everyone.