Talley/Johnson Memorial Scholarship Receives $90,000 Gift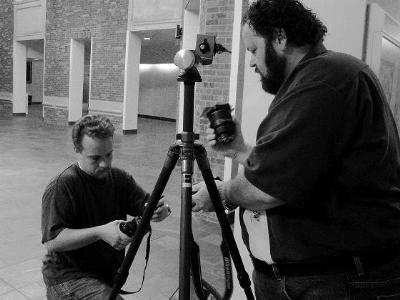 Photographers Matt Johnson (left) and Paul Talley (right)
A scholarship started as a tribute to the two photographers killed in the tragic airline crash in Kirksville more than two years ago has received a substantial boost.
Alicia Talley, the widow of Paul Talley, recently made a gift of $90,000 to add to the endowment of the Paul Talley and Matt Johnson Memorial Scholarship at Truman.
Talley and Johnson were among 13 people killed aboard a commuter plane crash on Oct. 19, 2004 near Kirksville. They were part of a team assisting Truman with the creation and design of new University publications and traveling to campus for a photography session.
The fund was created in the fall of 2004 with gifts from Truman's faculty and staff, Foundation Board of Directors, and Creative Communication of America. The endowment now exceeds $105,000, and is expected to eventually produce $5,000 in annual awards to deserving students.
Criteria for the scholarship require the recipient to show potential for academic achievement and leadership qualities. Students pursuing a career in commercial photography, photojournalism or art are given first priority. The scholarship is administered through the Truman State University Foundation.