Notables
Xiaofen
Chen
,
professor of economics
, has two forthcoming papers. Her paper on globalization and household saving will appear in the journal Applied Economics, and her paper on migrant households' consumption will appear in the book "Urbanization and Party Survival in China: People vs. Power."
Multiple students
,
faculty and staff
have been honored with Of-The-Month awards in their respective categories by the Residence Hall Association. Each winner has gone above and beyond the expectations of their roles, and members of the Truman community have helped to recognize the contributions of the following individuals for the month of September:
Desk Attendant -
Amollie Stormer
Educational Program -
Hall Council Training Session
Executive Board Member -
Cole Keiper
First Year Student -
Richard Bowles
Institution Faculty -
Wendy Miner
Organization -
Alpha Phi Omega
Residence Life Professional Staff -
Danielle Martel
Community -
Dobson Twain House
Student -
Max Cohen
Student Staff Member -
Mary Smrecker-Bruce
Hall Council -
Centennial Hall
Bulletin Board -
Emily Budzowski
In addition to these awards, residence life professional
Danielle Martel
was selected as a MACURH Region Of-The-Month award nominee.
Any member of the Truman community may submit an Of-The-Month award at
otms.nrhh.org
. These awards are voted on by the top one percent of on-campus leaders who make up the recognition committee and vote on the sixth of every month. For questions or more information, email
rha@truman.edu
.
Jason McDonald
,
visiting assistant professor of history
, delivered the Edward N. Peterson Lecture, Oct. 20, at the University of Wisconsin–River Falls. The presentation, "'Hold Up Your End!' Class, Gender, and Ethnicity in U.S. World War I Posters," discussed the symbolism used in the posters collected by professor Eugene M. Violette and which are now in the Special Collections at Pickler Memorial Library. Some of the posters in this collection will form part of an exhibition that will be on display at the University Art Gallery January-March 2017.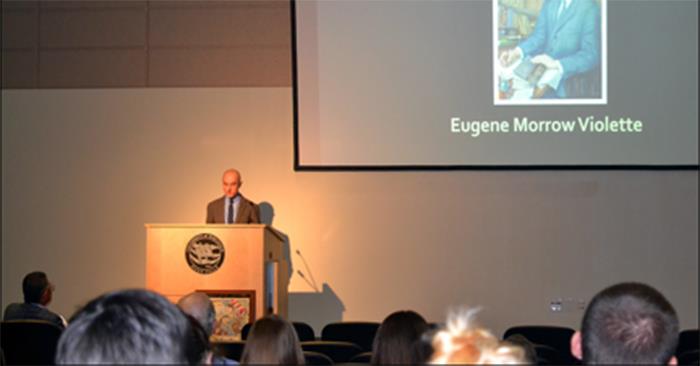 Professor Jason McDonald presents at the University of Wisconsin–River Falls.