Notables
Truman
has been named one of the 50 Safest Colleges in America by BackgroundChecks.org. The website is devoted to public safety and knowledge. For this study, researchers created the ranking using publicly available safety data for schools with at least 5,000 students. The listing can be found at
backgroundchecks.org/50-safest-colleges-in-america.html
.
As part of the
School of Health Sciences and Education
's ongoing commitment to help with the issue of food insecurity in the northeast Missouri area, the
Nursing Department
challenged all departments in the SHSE to raise money for Hope's Kitchen. Each department in SHSE collected signatures and donations and collectively raised $1,058.54 for Hope's Kitchen. The soup kitchen operates out of Mary Immaculate Catholic Church and serves about 200 meals every third and fourth Saturday from 11:30 a.m.-1 p.m., in addition to delivering meals to homebound and disabled residents.
Curtis Blakely
,
associate professor in justice systems
, had his article, "What Podolsky, Einstein and Others Have Taught Me about Greatness," published in the December 2015 edition of Socrates, a multi-lingual, interdisciplinary journal. The article details Blakely's efforts to catalogue and preserve the lectures, letters, scientific papers and books of several noted physicists.
Jesse Krebs
,
associate professor of music
, will give a guest clinic at this year's Arkansas Clarinet Day, Jan. 19, at the University of Central Arkansas. His presentation, "Teaching Clarinet Using Analogies and Similes," will focus on ways to use mental imagery and visualizations to teach clarinet technique and musicianship. He also will serve as the guest conductor for the Eastern Missouri Conference Honor Band in Bowling Green, Mo., Feb. 3, and he will be featured as the guest artist at this year's Eastern Kentucky University Clarinet Festival, April 2, in Richmond, Ky., where he will be performing a clarinet recital and giving a master class.

Clara Grace Miller-Broomfield
,
a senior romance language major
, had her paper, "A Lexical Analysis of an Obscure Pharmaceutical Term from a Fifteenth Century Spanish Apothecaries' Manual: 'Secaniabin,'" from the 2015 National Conference of Undergraduate Research, published.


John James Quinn
,
professor of political science
, had his book, "Global Geopolitical Power and African Political and Economic Institutions: When Elephants Fight," published by Lexington Books. It seeks to examine and explain two periods of significant and region-wide changes of African political and economic institutions and practices. These two regional shifts can be linked to two prior geopolitical shifts in power: the end of WWII with the Cold War structure, and the immediate post-Cold War period, with American primacy. The economic and political institutions of Africa that emerged in each period did so as a result of a complex mix of contending domestic, regional and international forces (material, ideological and intellectual) — all which were themselves greatly impacted in the wake of these two global geopolitical realignments.
Jack Winstead
,
assistant professor of accounting
, and his co-author Mitch Wenger, had their manuscript entitled, "Skills vs. Concepts? A Comparison of Practitioners' and Educators' Preferences for Accounting Information Systems Proficiencies," accepted for publication in forthcoming issues of the AIS Educators Journal.
Truman voice majors
Monica King
,
Katie Ewalt
and
Cady Thomas
participated in the National Association of Teachers of Singing regional auditions Nov. 12-14 at Olivet Nazarene University in Bourbonnais, Ill. Ewalt advanced to the semi-final round, and Thomas won first place in the Sophomore Women's Division. King is a student of Tom Hueber, and Ewalt and Thomas are students of Jacqueline Collett.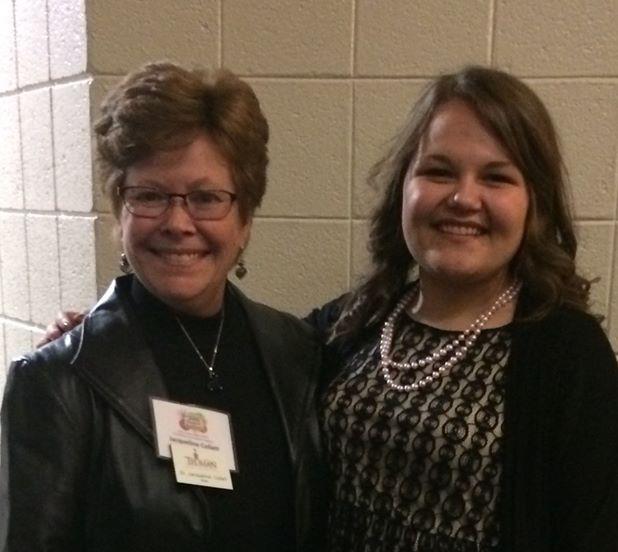 Cady Thomas, right, celebrates with Jacqueline Collett, professor of music, at the National Association of Teachers of Singing regional auditions. Thomas won first place in her division.