Truman Represented at Missouri Folklore Society Annual Meeting
Several Truman students and faculty members gave presentations at the annual meeting of the Missouri Folklore Society Nov. 12-14 in Jefferson City.
Senior English major Nick Puleo presented on rave culture as a folk-phenomenon. Maple Adkins-Threats gave an oral history of a Girl Scout camp with which her family has been connected over several generations. Emily Wildhaber, an English major with a folklore minor, shared a memoir of the demolition of a small town parish rectory, while Lucas Corey-Yares, a biology major and folklore minor, demonstrated functional analogies between 4chan memes and traditional proverbs. History major Patrick McGlasson discussed variations on a traditional ballad, which was performed within his own family. Anna Jones sat in on the folkjam as part of her fieldwork among traditional Missouri fiddlers. English faculty member Alanna Preussner discussed foodways on the road, while Barb Price and Adam Davis discussed the lore of cemetery monuments, focusing on the Black Angel of Iowa City and the Devil's Chair in Kirksville.
The Missouri Folklore Society's newsletter and website originate from Truman. The annual statewide convention in November 2016 is scheduled to take place in Kirksville. The incoming co-presidents are Barb Price and Betsy Delmonico.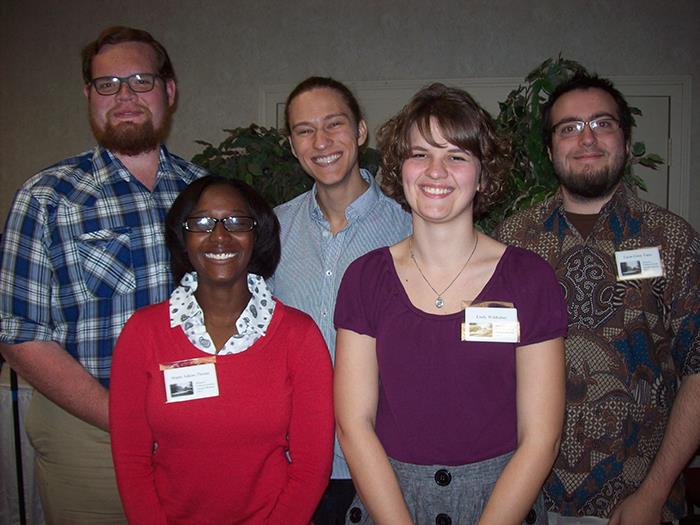 Several students represented Truman at the MIssouri Folklore Society annual meeting. Pictured, front row, left to right: Maple Adkins-Threats and Emily Wildhaber. Back row, left to right: Patrick McGlasson, Nick Puleo and Lucas Corey-Yares.