Students Experience Nursing in the Philippines
Nine Truman nursing students will present "Transcultural Nursing Experience in the Philippines" at 7 p.m. Sept. 25 in the Student Union Building Alumni Room.
The presentation focuses on the students' hands-on clinical experience and cultural immersion while spending three weeks studying abroad in the Philippines.
During the first half of the trip students work at the nonprofit government facility Jose R. Reyes Memorial Medical Center in Manila. There, they volunteer in areas such as labor and delivery, pediatric, intensive care, the emergency room and the operating room.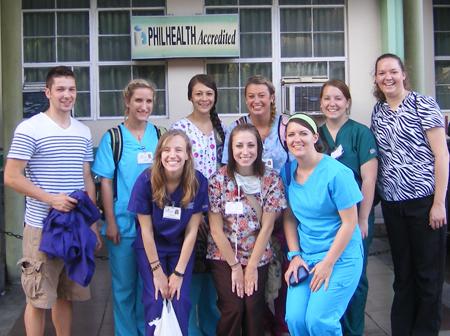 Students from the Truman Nursing Department will discuss their clinical experiences while studying abroad in the Philippines during a presentation Sept. 25. Pictured, back row, left to right: Taylor Frymire, Caitlin Schaefer, Courtney McIntire, Maggie Scharnhorst, Tori Johnson and Emily Garlock. Front row, left to right: Jessica Greenwood, Briana Keller and Emily Fahey.

Students finish the program by traveling to Iloilo City, where they are paired with local nursing-student "buddies" from West Visayas State University. With their buddies, Truman nursing students participate in various clinical experiences such as visiting a leprosarium, a social hygiene clinic, a nursing home and conducting home visits in a village located just outside of Iloilo City.
Preparation for the trip began last spring. Students researched cultural practices and communicable diseases common in the country.
The presentation is open to the public and refreshments will be served.