Speech and Debate Wins 2012 National Championship
The Truman Speech and Debate won a national championship after competing in the 42nd National Forensics Association National Championship Tournament in Athens, Ohio April 19-23.
Approximately 65 schools from all over the nation had representatives qualify to compete in individual events, and 18 schools competed in debate. Truman found success in both, advancing four debaters to elimination rounds as well as one individual events competitor. Truman brought down reigning champions Western Kentucky University, which has won a total of eight consecutive championship titles.
Sophomore, Myra Milam advanced amongst 75 competitors, and through three rounds of single elimination, to debate in the Lincoln-Douglas semi-final. Each of those competitors had to qualify during the regular season to earn their place at the national championship. This semi-final finish is one step better than Milam's finish last year. As a freshman, Milam advanced to the quarterfinal round. She had a better showing this year and earned a 4th place speaker award.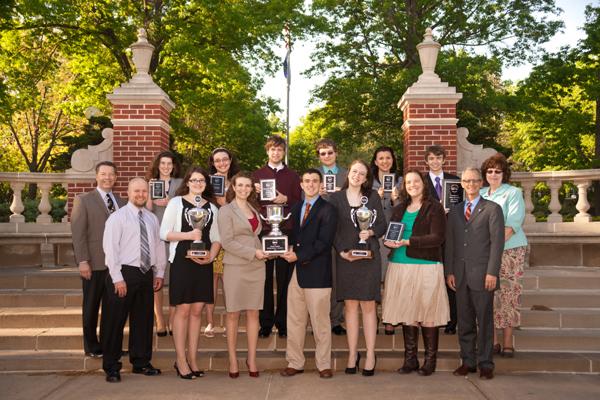 Speech and Debate Team members brought home several awards after the National Forensics Association Championship Tournament in Athens, Ohio.
Freshman Maddie Ebert also battled her way through to the semi-final round. Ebert took home an 8th place speaker award. Speaker awards are given to those debaters who show talent in public speaking skills and separate from win/loss records. Sophomore Kristen Wright also took home a speaking trophy, earning 5th place. Both Wright and sophomore John Carney broke into the first round of single elimination—but did not advance past the double-octofinal round. This puts them in the top 32 of the field, while Milam and Ebert now rank in the top four.
In Individual Events, junior Jessica Petrie advanced to the semi-final round of Impromptu Speaking. There were a total of 168 competitors in this event, and a semi-final round finish puts Petrie in the top 12 in the nation. Impromptu Speaking is an event that changes from round to round as competitors are asked to quickly (within two minutes) prepare a speech that defends a specific thesis. Petrie's finish, as well as the combined points earned from the eight other speech event competitors in preliminary rounds, earned the team a 6th place overall finish in the small to mid-sized schools division.
This is the first time that Truman has won the Lincoln-Douglas Debate Championship, as well as the first time the team had two debaters in the top four. For more information about the team, contact the Kristi Scholten, team director, at
kscholten@truman.edu
.