Truman Alumni and Staff Awarded 5 Under 40
Three Truman alumni and one Truman staff member were honored as Kirksville's "5 Under 40" at the Kirksville Young Professionals (KVYP) Banquet hosted Oct. 13.
Carolyn (Lumsden) Chrisman (`04) of the Kirksville Public Schools and Kirksville City Council; Heather (Mitchell) Condon (`03) of Century 21 Whitney Agency; Mike LaBeth of Heritage House Reality; Erin Shaw of Truman; and Ashley Young (`07) of American Trust Bank were chosen from 18 individuals nominated.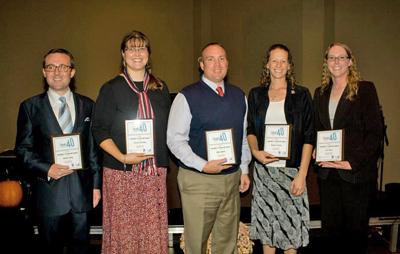 The recipients accept their "5 Under 40" awards. Pictured left to right: Ashley Young, Carolyn (Lumsden) Chrisman, Mike LaBeth, Heather (Mitchell) Condon and Erin Shaw.
The award, sponsored by KVYP and KTVO, honored local young professionals nominated for their professional and personal achievement, as well as their service to the community.
The banquet's keynote speaker, Ralph Cupelli, assistant to the provost and vice president of academic affairs, spoke of the unique professional opportunities available to young professionals in Kirksville. He attributed this, in part, to the opportunities provided by Truman and other high profile employers in the area.
Young wrote in his personal statement that his highest professional achievement to date was having graduated from Truman.