McNair Scholars Present at MKN Conference
Fourteen McNair Scholars traveled to Kansas City, Mo., Sept. 24-26 to attend the 14th Annual Missouri-Kansas-Nebraska (MKN) Heartland Research Conference.


Nine scholars were afforded the opportunity to present the results of their research conducted during the summer.

The Heartland Conference program included individual student research presentations, a graduate school recruitment fair and speakers who provided information about application to and strategies for success in graduate school. In addition, the scholars toured the nearby Nelson-Atkins Museum of Art.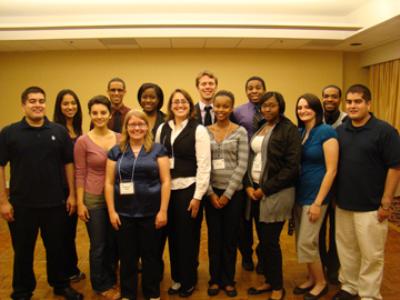 McNair Scholars assemble at the 14th Annual Missouri-Kansas-Nebraska Heartland Research Conference. Front Row, left to right: Jorge Camarillo*, Tahamara Ibarra*, Katherine Tolle*, Luna Oceguera, Sherrie Fortson, Chermain Jennings, Danielle Henry* and Emmanuel Camarillo*. Back Row, left to right: Hailey Feldhaus*, Joseph Dove*, Alyse Jenkins*, Max Glenn*, Michael Jones and Shawn Glispie. (*Presented research.)