McLane-Iles Receives 2010 Gruber Award
Betty McLane-Iles, professor of French, was awarded the 2010 David F. Gruber Leadership Development Award by the Missouri Conference of the American Association of University Professors (AAUP) during the organization's annual meeting at the University of Missouri-Kansas City on Feb. 13.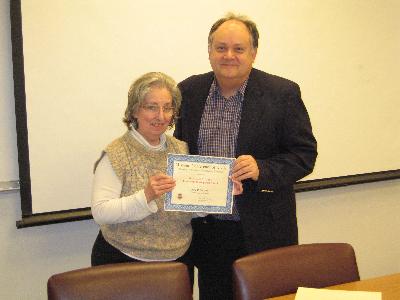 Betty McLane-Iles accepts the 2010 Gruber Award from David Robinson, vice-president of the Missouri Conference of AAUP. Gruber, a former professor at Truman, passed away in 2005.
The Gruber Award is a special honor that gives monetary support to AAUP members in Missouri who attend training seminars and regional or national meetings of AAUP. McLane-Iles attended the AAUP Summer Institute, July 23-26, at Macalester College in St. Paul, Minn. Among other activities there, she concentrated on seminars devoted to negotiations and arbitration of disputes. She has served as president of the Truman Chapter of AAUP since 2006.
The Gruber Award was established in 2005, the same year David Gruber, former president of the Missouri Conference and member of the National Council of AAUP, passed away. Gruber taught philosophy at Truman starting in 1989.
Since its founding in 1915, AAUP has followed its original purpose: to advance academic freedom and shared governance; to define fundamental professional values and standards for higher education; and to ensure higher education's contribution to the common good.
More information can be found online at
http://www.aaup.org
,
http://www.moaaup.org
and
http://aaup.truman.edu
.