A Day in Truman's History: Mission Change Legislation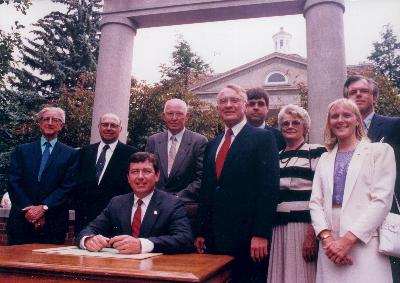 (Standing left to right) Board members Inks Franklin, Hilburn Fishback and Ralph Shain, University President Charles McClain, Board members William Randolph Weber, Myra Baiotto, Susan Plassmeyer and Robert Fenlon with Gov. John Ashcroft (sitting) at the bill signing changing the University's mission in June 1985.
Twenty years ago on June 20, 1985, Gov. John Ashcroft signed legislation effective Jan. 1, 1986, that changed the University mission from a regional university to a statewide public liberal arts and science university.
"This designation of NMSU as a liberal arts and science university with a statewide mission is well-deserved," Ashcroft said in 1985. "Northeast Missouri has, in recent years, won national acclaim for its outstanding 'value-added' approach to undergraduate instruction."