MLK Honored with Series of Events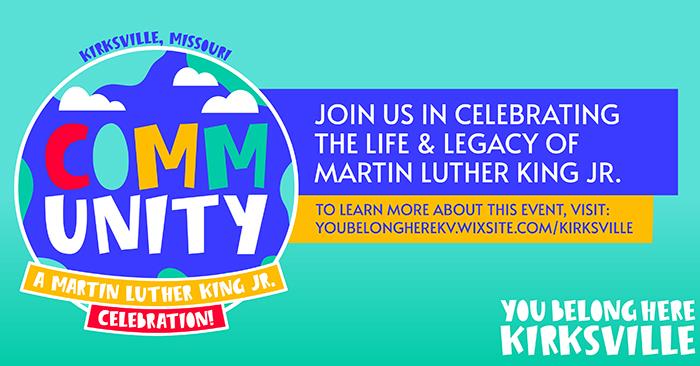 All are invited to celebrate the life and legacy of Martin Luther King Jr. in the month of January.
Everyone is welcome in Kirksville, and these festivities celebrate students, neighbors and community members from diverse races, ethnicities, religions and other cultural backgrounds who work, study and live in Kirksville and who make it truly amazing. This citywide campaign and community celebration aims to combat hate, intolerance and racism and show that residents are welcomed and accepted for who they are.
The goal of this initiative is to collect donations to provide as many diverse books as possible to classrooms in local schools. All children deserve to see themselves reflected in books in their classrooms, and all children deserve a window into the lives of those whose experiences have been different. In addition, donations will be collected for the Pantry for Adair County.
There will be virtual and in-person multicultural – unity and social justice themed – activities for children and families, as well as an art display and a social justice musical performance. Learn more about how to get involved at
youbelongherekv.wixsite.com/Kirksville
.