Men's Basketball Championship Challenge Exceeds Goal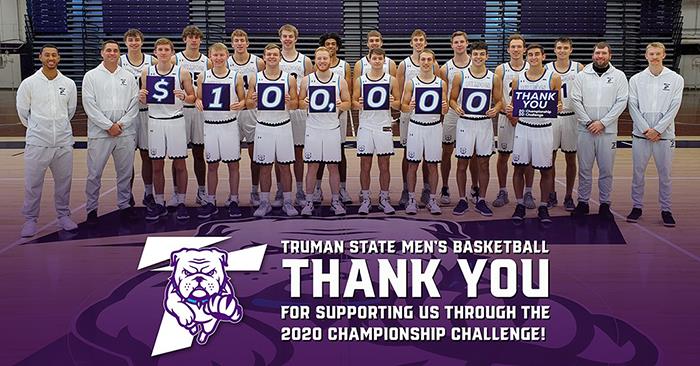 More than $100,000 in financial support was generated for the men's basketball team during a recent fundraising challenge.
Members of the men's basketball 1978-79 Hall of Fame and championship team provided $50,000 to ignite enthusiasm and additional financial support for the program. The challenge allowed gifts and pledges to the program from Nov. 1-27 from alumni, parents and friends to be matched. The entire $50,000 of matching funds were utilized, and the challenge exceeded more than $100,000 in total support.
"On behalf of the entire program, I want to express our gratitude for the outpouring of support," said Jeff Horner, head coach. "It was amazingly generous of the '79 team to provide this opportunity for the program, and it was really cool to watch the Bulldogs of all eras, along with family and friends, join together in pursuit of this goal."
The ability to make sure all the matching funds were used was spearheaded by volunteer support. Bill Woodall ('79) agreed to serve as a "captain" for the coordination of communication with the University. A number of other individuals agreed to serve as "captains" for the challenge. They reached out to individuals in their sphere of influence to encourage support of the campaign and connectivity to the program. The captains for the Championship Challenge were:
Bob Stephens ('57)
Jim Magruder ('73)
Bill Woodall ('79)
Jimmy O'Donnell ('98)
Jason Reinberg ('00)
Dusty Bruner ('02)
Mike Carlson ('13)
Zach Fischer ('16)
Cole Myers ('16)
Cory Myers ('16)
Billy Daniel ('17)
Taurin Hughes ('19)
Mary Beth Scott (Parents)
The basketball team aims to continue building on their own championship success from last season, and are near the midway point of their 2020-2021
schedule
. Anyone interested in supporting of the men's basketball program can make a secure gift online,
here
.