Campaign Tops $7 Million Mark with Teal Commitment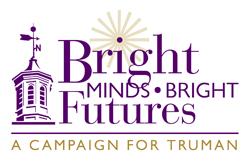 Advance commitments in Truman State University's "Bright Minds Bright Futures" campaign have now surpassed the $7 million mark.
Through Nov. 20, a total of $7,093,189 has been generated in cash, multiyear pledges and deferred gift commitments toward an overall goal of $30 million. The five year campaign, which is early in its second year, continues through its leadership gift phase and will enter a broader public stage at a later date.
The campaign received its second $1 million deferred gift commitment recently from John and Denise Teal of Elmore, Ohio.
The Mr. and Mrs. John M. Teal Scholarship is designed to support students at Truman State University who are honorably discharged veterans from any branch of the armed services and children of military personnel who have been killed or become permanently disabled in the line of duty. Financial need is also a primary consideration.
The scholarship will be created with a cash gift through Truman's "Bright Minds Bright Futures" campaign, and matched dollar-for-dollar by John's employer, First Energy Corporation. The Teals have pledged to make the scholarship one of the University's largest with a $1 million commitment through their estate plans.
A native of Kansas City, John "Mitch" Teal served three years of active duty in the Army in Germany. He utilized the GI bill to enroll at Northeast Missouri State University in 1975 and continued to serve as a member of the local National Guard unit. After graduation in 1978, John received a masters' degree in regional and city planning from the University of Oklahoma and in public administration from the University of New Orleans. He serves as a senior emergency response specialist with First Energy, the nation's fifth-largest investor owned electric system.
Denise Teal received Bachelor of Arts degrees in Spanish and Latin American Studies from Truman in 1977, and a Bachelor of Science degree in secondary education for Spanish and French in 1978. Denise began her law school at Loyola University in New Orleans, La., and completed her degree at the University of Toledo in 1987. She served the United States Attorney's Office in Toledo for 11 years and is currently a Master Gardner.