Alumnus and Author Brendan O'Brien to Visit Campus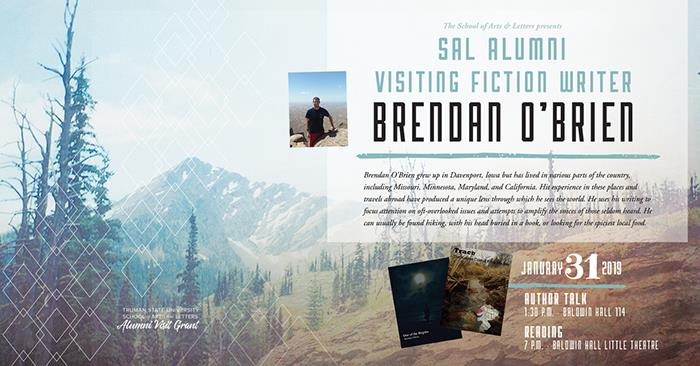 Author Brendan O'Brien ('13) will give a talk at 1:30 p.m. Jan. 31 in Baldwin 144 and a reading at 7 p.m. in the Baldwin Little Theatre.
A graduate of Truman with a Bachelor of Arts degree in psychology and minors in English and African studies, O'Brien is a social justice writer and a fire technician for the U.S. Forest Service. He grew up in Davenport, Iowa, and has lived in Missouri, Minnesota, Maryland and California. His experiences and travels abroad have produced a unique lens through which he sees the world. He uses his writing to focus attention on often overlooked issues and attempts to amplify the voices of those seldom heard.
O'Brien's work includes the novel "Out of the Depths," as well as the nonfiction title "Trace: The Hidden Cost of What We Buy," of which 20 percent of all proceeds goes to Human Rights Watch. These books are readily available on
noisetrade.com
, and both books are a part of the growing body of the U.S. social justice literature.
Free and open to the public, both events are funded through an Arts and Letters Alumni Visit Grant.