Jarvis and Mohler Receive Innovation Awards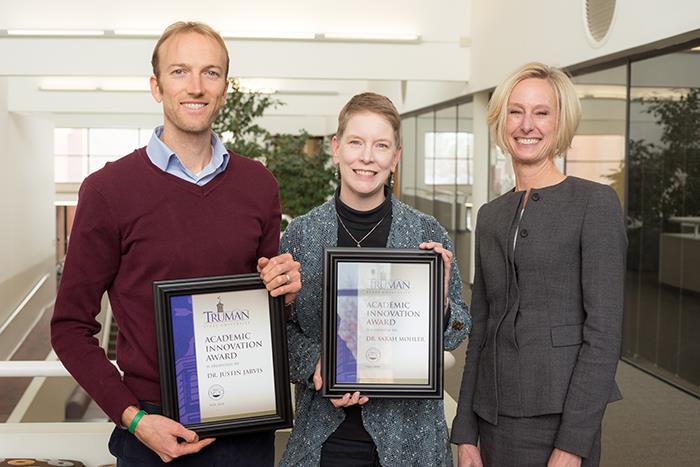 Justin Jarvis (left) and Sarah Mohler (center) accept their Academic Innovation Awards from Janet Gooch, executive vice president for academic affairs and provost.
Justin Jarvis, assistant professor of economics, and Sarah Mohler, assistant professor of English, each earned the fall 2018 Academic Innovation Award.
Jarvis was recognized for,
Collective Communism in the Classroom
, which helps students visualize the inner workings of the free market by participating in a simulation economy in the classroom. The simulation did not rely on the typical supply and demand market processes; rather, students had to collectively decide on quantities and thus learned firsthand how difficult that procedure was.
Mohler won for,
Fostering Emotional Well-Being and Deeper Literary Analysis Through Script Theory
. By teaching students to recognize the cognitive scripts that led to happiness or unhappiness in the lives of fictional characters it can help not only improve their analysis of literature but also help them recognize and analyze the scripts that might be contributing to their own happiness or unhappiness in real life. When paired with an assignment asking students to implement one of seven scripts psychological studies have associated with increased happiness, it can foster greater emotional well-being that may have an impact well beyond the course.