Ofstad Reading Series to Discuss Girlhood in Literature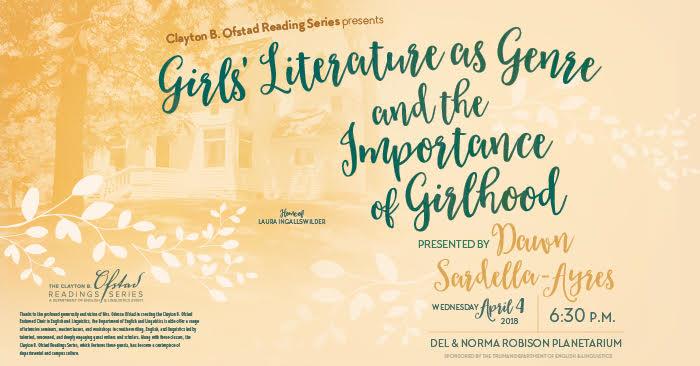 Dawn Sardella-Ayres will present "Girls' Literature as Genre and the Importance of Girlhood" at 6:30 p.m. April 4 as a part of the Clayton B. Ofstad Reading series.
The girls' bildungsroman is one in which the heroine or heroines learn their place in society as a woman. This encompasses her physical, psychological and moral coming of age. By examining the ways in which girls and girlhood have been presented, defined and performed in popular and enduring works of literature, it is possible to raise new questions about what it means to be a girl today.
Sardella-Ayres will discuss how classic works of American and Canadian girls' texts can be grouped together as a distinct genre, the North American girls' bildungsroman, through which unique ideologies of space, place, heritage, gender and social structures can be explored. Girls' bildungsroman is a text or series of texts in which the heroine is portrayed constructing and developing, or engaging in acts which construct and develop, a gendered identity within her social and domestic environment.
Sponsored by the Department of English and Linguistics, the presentation is free and open to the public.
Due to the generosity and vision of Odessa Ofstad in creating the Clayton B. Ofstad Endowed Chair in English and Linguistics, the Department of English and Linguistics is able to offer a range of intensive seminars, master classes and workshops in creative writing, English and linguistics led by guest writers and scholars. Along with these classes, the Clayton B. Ofstad Reading Series, which features these guests, has become a centerpiece of departmental and campus culture.