Homecoming Banquet Celebrates Honorees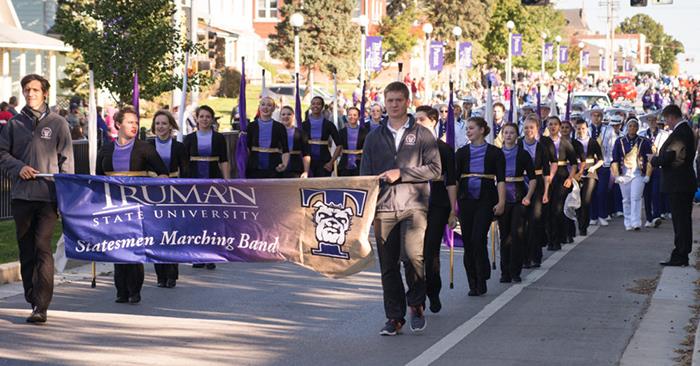 Several Truman alumni will be recognized at the Bulldog Forever Celebration Banquet at 6 p.m. Oct. 13 in the Student Union Building Georgian Room as part of Homecoming 2017. In addition to the following honorees, banquet ceremonies will also include recognition of the Alumni Chapter of the Year, Athletics Hall of Fame inductees and the Golden Alumni. For more information on the alumni being highlighted during the banquet, visit the
Homecoming Honorees website
.
Alumnus of the Year
Kenneth "Ken" Rickli
('65)
Both Ken and wife Kathy are deeply committed to life-long learning, supporting education and giving back to society. In 2012, they created the Rickli Family Scholarship with a six-figure gift to the Truman State University Foundation. This renewable full-tuition scholarship is now awarded annually to an Affton High School senior who demonstrates great promise of future success at Truman. As supporters of the Foundation, the Ricklis are members of Truman's John R. Kirk Society and the President's Circle.
Distinguished Service Award
Sharon (Hogan) Husmann
('83)
After serving a six-year term on the Truman Alumni Board, Sharon remains active with the University as a member of the executive committee of the St. Louis Alumni Chapter. A recently retired special education teacher, she spent the final 15 years of her career at Fort Zumwalt North Middle School in her neighborhood school district. In retirement, she stays busy with community volunteering and the fabric arts. Sharon also serves on the Board of Directors of Fathers' Support Center, a non-profit in St. Louis dedicated to fostering healthy relationships by strengthening families and communities.
Distinguished Service Award John Thompson Jr.
('92)
John is a partner and head of investment solutions for the Institutional Advisory Solutions practice where he manages asset allocation portfolios for Aon Hewitt's clients. He has more than 20 years of experience in the financial industry and is a frequent speaker at industry and client conferences, lecturing on asset allocation and alternative investments. A member of the Truman State University Foundation Board, John serves as vice president of the Board and as a member of the Investment Committee.
Young Alumnus of the YearCody Sumter
('10)
Cody Sumter is a product manager at Facebook for VR Apps and 360 Photography. Previously he was the co-founder of Behavio, a mobile sensing company acquired by Google in 2013. He received his master's from the MIT Media Lab and MIT Technology Policy Program, where he researched using cellphones as a sensor platform to study social dynamics and human behavior. While at Truman, Cody was involved in the astronomy research program, working on and leading several projects at both the Truman Observatory and Lowell Observatory He also served for three years as the student representative on Board of Governors, and he brought Humans vs. Zombies to Truman. Cody presently serves on the University Foundation Board.
Bulldog Forever Volunteers of the YearGerald Hollingsworth
('67) and
Karol Hollingsworth
A lifelong educator, Gerald spent much of his career as a Spanish instructor and Foreign Language Department Chair at Herbert Hoover High School in Des Moines. He also taught Spanish in the adult education program and was a driver education instructor. Later, he worked for the Iowa Association of School Boards instructing teachers and their students throughout the state on how to implement a diagnostic program concentrating on individual student curriculum weaknesses with prescriptive remedies.
For 11 years, Karol was a full-time mother, raising their three children, David, Daniel and Deanna. She worked as an automation coordinator for 18 years at the Des Moines office of St. Paul Insurance Company and then another 18 years with EMC (Employers Mutual Insurance Companies) as Support Analyst retiring in 2013. She also has enjoyed the Iowa Alumni Chapter's many activities, volunteering alongside Gerald. Gerald and Karol spend their free time traveling and have visited more than 50 foreign countries.
Both Gerald and Karol are very active in the Iowa Chapter activities of the Truman Alumni Association, and Gerald is a member of the Iowa Alumni Chapter Executive Board.
Homecoming Parade Grand MarshalLouis "Lou" Coco
('67, '70)
A retired coach and administrator, Lou spent 37 years in education, mostly in the St. Louis area. Some of his associations with Truman include membership in the John Kirk Society and the Pershing Circle. Recently, he served as a committee member for the University's "Pursue the Future" campaign in the St. Louis region. While attending Truman, Lou played football as a safety, defense end and strong side end. During this time, he was also part of the collegiate baseball team. Additional honors and organizations include Who's Who, Phi Delta Kappa, Alpha Phi Omega, Sigma Tau Gamma fraternity, Student Government and K-Club.